How Much Would you Pay for OJ Simpons's 'Not Guilty' Suit?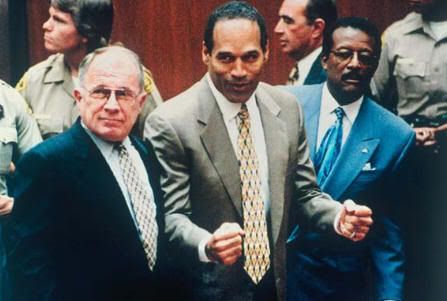 As TMZ reports, a war has ensued over the impending sale of the suit OJ Simpson was wearing in court on the day of hit "Not Guilty" verdict.
David Cook, the lawyer for Fred Goldman (father of the man Simpson slaughtered), filed legal papers Monday in Santa Monica asking a judge to grab that suit.
…
[Memorabilia salesman Alfred Beardsley] said he had a conference call this morning with Cook and Kim Goldman. Beardsley says he plans to acquire the suit, and the trio talked about the Goldmans getting a percentage of the sale to help satisfy the outstanding judgment. The court could engineer the ground rules tomorrow.
Just the way I've felt ever since the verdict for the civil suit was handed down, any cent made by OJ, because of OJ, or anything related to the trial, should go to the Goldmans until they are completely paid off. Beardsley says he could get $100,000 for the suit. That seems like an awfully lot for me. But who am I to talk? That's a bargain compared to $10,000 for Luis Gonzalez's chewing gum. At least the winning bidder can rock it to a Bar Mitzvah or something. My only question: does it come with the tie?