Kristen Bell Crushed on Chris Osgood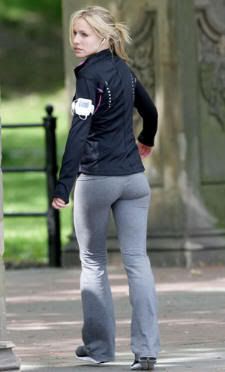 Leave it to me to be right on time to the party and post this right after Chris Osgood had his worst game of the Stanley Cup Finals. Anyway, Kristen Bell, the star of Heroes, Gossip Girl, Veronica Mars and much more, revealed her first crush to NHL.com in an interview:
NHL.com: If you could meet any hockey player, who would you meet and why?

KB: Chris Osgood was my first crush. Brad Pitt be damned, he had nothing on Osgood's rookie skill and sad eyes. There was actually a day in high school when I wrote on a name tag 'Mrs. Osgood' and wore it the whole day. I really thought we were perfect for each other. I'd love to meet him and probably apologize that things never worked out.
…
NHL.com: If you had the Stanley Cup for one day, what would you do with it?

KB: I would start by eating an entire box of Fruity Pebbles out of it. Then I'd take an afternoon sponge bath in it. Then I'd retro fit it with handles and make it into a Stanley Cup handbag.
Fruity Pebbles + Sponge Bath = Dream Come True. I can't think of much better things to do with the Stanley Cup, but one would involve this lovely young lady pictured down here. As far as the above picture of Ms. Bell, I have to give major thanks to my man Justin for the tip. And there's one more included after the jump, just for him.