$90 Million for Torii Hunter? What Are the Angels Thinking?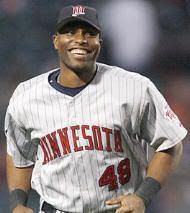 Under no circumstance can I envision the Angels spending $90 million on Torii Hunter being a good deal. The reason why it caught everyone off-guard, Hunter included, is because the Angels grossly overpaid, and because Hunter probably never dreamed he would get that much. The Twins supposedly offered 3 years for $45, while the White Sox supposedly offered 5 for $75. That's about right. I thought, and still believe, that Hunter is only worth around 5 for $65. So what makes this deal so horrible? Well, as Ben and I discussed at Obscure Sports Quarterly, it makes no sense on many levels. Let's begin.
First of all, the Angels have set the free agent market extremely high, screwing many other teams, themselves included, for the future. Now Andruw Jones, Aaron Rowand, and Mike Cameron are probably going to cost a million or two more per year because of the Angels. When the Angels need to re-sign players, or go after other players, Hunter's contract will be a future benchmark. If I were another GM, I'd be pissed the Angels inflated the market. When Ichiro was extended during the season this year, what'd he get? 5 years for $90 million. Sorry to say it, but Hunter is nowhere near as good as Ichiro, meaning the Angels had no business having Hunter's contract match Ichiro's.
Second of all, the Angels now have $130 million, and around $28 million annually allotted for two center fielders. That's absurd. I can think of hundreds of ways to better spend $130 million. All those rumors about the Angels going after A-Rod? Even as the most expensive player in baseball at $27 million a year, pair him with any guy making the minimum and it's still better value than Matthews plus Hunter.
Third, it's like the Angels are just trying to appease the media. Media members say the Angels need a bat to protect Vlad in the order. Sure, sounds great. But one good bat isn't enough to protect Vlad; they need another top 10 bat to properly protect Vlad. Hunter couldn't even protect Morneau and Mauer. He batted behind Michael Cuddyer in Minnesota. Yet he's supposed to protect Vlad? Give me a break. First line of the AP story, Angels now have protection for Vlad. So the media gets what it wants, but the Angels don't get much better. Even with $90 million on Hunter, the Angels still don't have as good an offense as Boston, New York, Cleveland, Detroit, or probably Seattle and Toronto.
The Angels covered one mistake (Matthews) with an even bigger mistake. I seriously wonder whether or not Juan Rivera wouldn't match Hunter's offensive production on his own. Matthews is probably as good in center as Hunter, or at least close to it, so what are you really gaining? Now there's a huge log jam in the outfield that will probably be sorted out by trades. But it doesn't change that the Angels overpaid Hunter, screwing up the market. People ask me why I care, arguing that it's not my money. Well, I am a forward thinker. If the Angels have $90 million tied up to Torii, how will they afford to re-sign Miguel Cabrera should they acquire him, and how will they re-sign Franky Rodriguez when he comes up, John Lackey when he comes up, and same with Escobar?
How will they have the money to throw at better free agents when the '08 class comes up? Johan, Sabathia, and Sheets will all be available. Wouldn't the Angels be better served going after one of these pitchers instead? I certainly think so. Under no circumstance does this signing make sense, and what's worse, the Angels inflated the market ruining things for themselves and other teams. Your comments and opinions are welcome.