Brian Bruney's Career 4.28 ERA Criticize Frankie Rodriguez's Showboating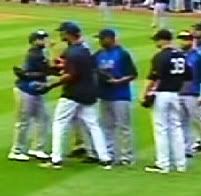 Chalk this up as a first for Brian Bruney being mentioned here at LBS. The former Diamondback and current Yankee reliever (on the DL because the umpires stiffed him, by the way), had some biting remarks towards Frankie Rodriguez following Friday night's Luis Castillo dropped popup debacle at Yankee Stadium. Likely thinking he was in the friendly confines of Trenton's minor league system (he was there on rehab), Bruney had this to say:
"Couldn't have happened to a better guy on the mound, either. He's got a tired act. I think that's bad, but two years ago, when he lost the game…I don't know if anybody saw it, I did. He was in Oakland and he was pitching for Anaheim, didn't get a call, and so he was like complaining. The catcher threw it back and he just kind of did one of these (Bruney half-heartedly holds his arm out) and hit off his glove and bounced behind and the guy from third scored and they won the game. He gets what he deserves, man. I just don't like watching the guy pitch. I think it's embarassing."
As an Angels fan who watches most of their games, I know the exact moment to which Bruney was referring. I loved Frankie with the Angels and I'm a big fan of his, but I have to side with Bruney regarding the overall message. Frankie does celebrate too much and his antics do show up the batter. I don't like it when guys loaf on fly balls either catching them or running them out, when pitchers celebrate after strikeouts or saves, or when batters pimp home runs. Frankie's one of the worst when it comes to closers. I'm glad finally someone pointed it out and I don't care if Bruney's weaker accomplishments make him appear less credible. I think it's pathetic that K-Rod says you have to perform well for your opinion to mean anything and that he wound up approaching Bruney during batting practice. Frankie's an excellent pitcher but his excess celebration is just that — overboard.