Steph Curry got away with a blatant carry in Game 3 of the NBA Finals on Wednesday night.
Late in the first quarter of the game between his Golden State Warriors and Toronto Raptors, Curry completely carried over as he dribbled around Danny Green before taking a shot. The carry could not have been more obvious:
STEPH CARRY (via @ESPNNBA) pic.twitter.com/ozLiSxHqfB

— Overtime (@overtime) June 6, 2019
Nothing was called by the officials, which allowed Curry to maintain possession and make a deep 3-pointer.
With Kevin Durant, Klay Thompson and Kevon Looney out due to injuries, Curry had to carry the team in the first quarter and did so with 17 points. He also got away with one on that play.
One ex-Toronto Raptor was not pleased with Stephen Curry's antics during Game 2 of the NBA Finals.
In the fourth quarter of the Golden State Warriors' 109-104 win on Sunday, Curry, who was not in the game at the time, came all the way from the Dubs' bench to celebrate a Quinn Cook three-pointer while play was still going.
Steph Curry ran all the way down the sideline to celebrate with Quinn Cook. pic.twitter.com/NpTIuCu6Ep

— ESPN (@espn) June 3, 2019
In response, Oklahoma City Thunder forward Patrick Patterson, who formerly played for the Raptors, tweeted his displeasure with the sequence. He also tagged the official NBA and NBA Referees accounts calling for action.
So Curry just ran on the court to celebrate with Cook during live play.. what y'all gonna do about that? @NBA @OfficialNBARefs

— Patrick Patterson (@pdpatt) June 3, 2019
Patterson was with Toronto for four seasons from 2013 to 2017, overlapping with current Raptors players Kyle Lowry, Fred VanVleet, Norman Powell, Serge Ibaka, and Pascal Siakam.
Curry, meanwhile, later got T'd up at a crucial moment in the game, so he probably needs to do a better job of toning down his behavior going forward.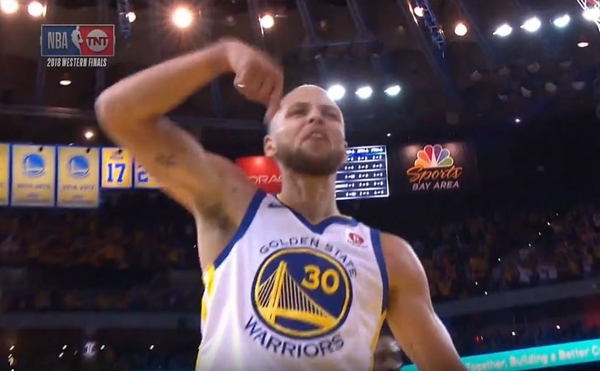 Steph Curry was called for a costly technical foul late in Game 2 of the NBA Finals on Sunday night.
Toronto Raptors star Kawhi Leonard was driving to the hoop with just over a minute to go and was fouled. Curry got a hold of the ball following the foul and threw it into the air. Referee Scott Foster called Curry for a tech for launching the ball. Curry seemed surprised about the result.
Leonard made his technical free throw and then two more for being fouled on his drive to the basket to bring his team back from down eight to make the score 106-101.
Danny Green made a 3-pointer to bring Toronto within two of Golden State. If not for a clutch 3-pointer by Andre Iguodala that made it a two-possession game in the final seconds, things could have gotten really interesting in the final seconds.
Curry, who was said to be playing ill in the game, finished with 23 points on 6-for-17 shooting.
Steph Curry apparently was not at full strength for the Golden State Warriors in Game 2 of the NBA Finals on Sunday against the Toronto Raptors.
Curry got off to a slow start, shooting 0-for-3 to begin the game. Towards the end of the first quarter, ABC reporter Doris Burke spoke about Curry's status.
"I don't really get the sense he's feeling particularly well. He made it known a little bit pregame," Burke said.
Burke further reported that Curry consumed some energy gels and was being checked on regularly by the team's trainer. Despite Burke's report, Warriors head coach Steve Kerr apparently tried to brush things aside by saying Curry was fine.
"I have no idea," Kerr said in an interview between quarters with Burke when asked about Curry walking off the court with the trainer.
Burke insisted Curry's status throughout the game was something to watch.
We've already seen one star player receive criticism for the way he composed himself while playing sick in the playoffs. The reaction to how Curry's status is handled will be something to watch.
The Golden State Warriors have already engaged in plenty of trash talk with Drake after just one game of the NBA Finals, and Stephen Curry's wife Ayesha appears to be getting in on the fun as well.
Drake got into a friendly back-and-forth with Curry during the Toronto Raptors' Game 1 win, and the rapper picked a piece of lint out of Curry's hair during the exchange. He then trolled Curry over it on Instagram and said he is selling the lint on eBay.
Ayesha later chimed in by suggesting a charitable organization to donate the proceeds to:
LMAOO. Ayesha aint playin with Drake. 😂 pic.twitter.com/bjpT8Pc2tS

— Ly vely (@llYXEN) June 1, 2019
We're guessing Drake loves every second of it. In fact, there has been some talk that he may have given Curry a subtle zing through Ayesha's Instagram page when he liked the following photo of Mrs. Curry:
Drake likes Ayesha Curry's photo 👀 pic.twitter.com/RgYPEN94u8

— Rap Spotlights (@RSpotlights) June 1, 2019
Ayesha infamously said recently that she is jealous of all the female attention Steph gets and she feels like it has been years since she got similar attention from men.
Of course, all of this is in good fun. Drake actually has a good relationship with Curry and several Warriors players, and there's no better evidence of that than the tattoos he covered up for Game 1.
Drake continues to be one of the best parts about the NBA Finals. Not only did he trash-talk Draymond Green after his Toronto Raptors beat the Golden State Warriors 118-109, but he also trolled Steph Curry.
Drake got in Curry's face during Game 1 of the series at Scotiabank Arena on Thursday night. During their exchange, Drake picked some lint out of Curry's hair. He then made reference to it with a funny Instagram post after the game.
Drake claimed he was going to sell the piece of lint on eBay, and then he trolled Draymond with his fake usernmame.
"Steph Curry hair lint for sale on my eBay right now!!! username: DraymondShouldntWear23" was Drake's caption.
The jab about Draymond is for him wearing the same number as Michael Jordan.
Some of Drake's antics for Game 1 included wearing a Dell Curry Raptors jersey, getting in the exchange with Curry, messing with Klay Thompson over "Hotline Bling", trash talking Green, and then trolling Curry and Green with the Instagram post. This guy is unstoppable.
The NBA Finals matchup is finally set, and it provides an intriguing matchup between the ultra-experienced Golden State Warriors and a Toronto Raptors team that has finally broken through after running into multiple LeBron James-shaped walls in previous attempts. There's certainly an experience gap and, at least at the top levels, a talent gap between these two teams. But this is not a slam dunk for Golden State by any measure.
Which players will step up for each team? Here are the ten players who will likely decide which team can claim the NBA title this season.
10. Andre Iguodala, Warriors
Iguodala is expected to play in Game 1 despite a calf injury. While he's certainly not Golden State's biggest star, he probably profiles as the team's most important role player. His defensive play in Game 2 against Portland was one of the biggest moments of the Western Conference Finals. Iguodala isn't a huge scorer, but he's a quality defender and one of the prototypical glue guys that teams like Golden State need. Expect him to get some key defensive assignments against Toronto.
pixel2