Baseball Preview: Seattle Mariners
Last year's record and finish are in parenthesis with projected improvement/decline indicated by plus or minus.

Seattle Mariners (78-84, 4th in the AL West) +3 games

Get Crunked: 1-6 this can be one of the top lineups in baseball. How about this, you take the best seasons that Ichiro, Beltre, Sexson, Ibanez, Jose Guillen, and Kenji Johjima have all turned in, and you're talking about a lineup comparable to the Yankees. The question is, can they all put it together at the same time? The rotation is solid, and it's led by youngster Felix Hernandez who can be the next top pitcher in the AL. JJ Putz came on as one of the top closers in the league after Eddie Guardado blew nuts last year.
Party Foul: Consistency is the issue for this team. Will they get the end of '05 King Felix, or the one who got bombed last year? Will they get the '05 3.20ERA Jarrod Washburn or the 4.67ERA of last year? The Jeff Weaver cut by the Angels or the Jeff Weaver who won the World Series for St. Louis? The list goes on and on…'03 Jose Guillen, '04 Beltre, who will show up? That is the question for Seattle.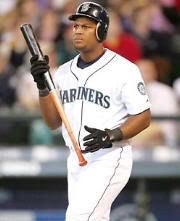 Adrian Beltre is a model of the Mariners inconsistency
What'd my GM do: He locked up JJ Putz for 3 years at a reasonable amount. Miguel Batista was signed for 3 years at $25 million and will be a cheaper alternative to Gil Meche. Jose Guillen was an excellent bargain at $5.5 mil for one year since he has a ton of upside. Jeff Weaver at just over $8 mil is a bit pricey, but as long as he keeps his ish together, they should be fine. I actually was fine with the Rafael Soriano trade to Atlanta, because the Mariners needed Horacio Ramirez to fill out the rotation.
Lay it on me Straight: If all breaks right for this squad, meaning those free agent a-holes who were brought in over the last two seasons actually play the way they were paid to, this team could win the division, no joke. But the likelihood of that happening isn't great. HOWEVA, the Mariners will see a vast improvement over last year, and they'll be back in the division hunt once again.
So where my boys gonna finish right now: At .500, not too far behind the A's and Angels, who both will probably be worse than last year.
Can we be better than that: Heck yes — this team has the potential to take the division (but not go too far in the playoffs).