Carlos Pena Scores the First Golden Sombrero of the '09 Season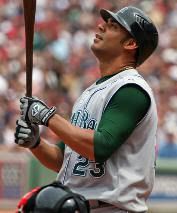 A year later and it's almost like nothing has changed. May 7th of last year, Rays first baseman Carlos Pena took the Golden Sombrero against the Blue Jays. To refresh your memory since it's been so long, the LBS Golden Sombrero Club is designed to recognize players who achieve the dubious distinction of going 0-for-4 in a ballgame with four strikeouts. The even more difficult task is going to bat five times in a ballgame and not even touching the ball. The 0-for-5 with five strikeouts game is the more rare variety of the Sombrero, known as the Platinum Sombrero. Andruw Jones was the only player of record since the Club's inception to get the Platinum Sombrero.
Anyway, picking up right where we and Pena left off last year, Carlos Pena achieved the first Golden Sombrero of the year. Pena had the unenviable job of facing Josh Beckett, who brought his A-game for the Red Sox. Beckett allowed just two hits over seven innings, striking out 10 Rays. Pena was the victim three of those times. Justin Masterson completed the sombrero, k'ing Pena in the 8th. Pena went down swinging twice and looking twice, so he was definitely equal opportunity. This was only one game of 162 for Pena, so we know brighter days are ahead. The guy's a power hitter with back-to-back 30-homer, 100 RBI seasons — strikeouts are part of the game. Boy is this guy hit or miss.