Pete Rose Bet on Tony Gwynn in Basketball, Cracks on Marge Schott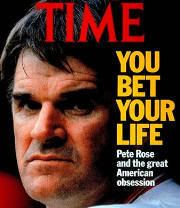 I already told you about the excellent segment on Double X Sports Radio that featured Pete Rose, Tony Gwynn, Randy Jones, and Darren Smith. In another part of the segment, Tony Gwynn was talking about getting his first major league hit — a double against the Phillies. Apparently Rose was playing first base and trailing the play, and bid Gwynn congratulations on the hit after the play. Tony Gwynn then talked about what a fan he was of Rose, and Rose interjected:
"You guys don't understand because I love Tony Gwynn because I won some big bets when he played basketball [everybody laughing] … he can score some points … just kidding."
That line certainly grabbed a ton of laughs, and in case you were unfamiliar, Tony Gwynn was a star point guard at San Diego State. But check out this zinger from Rose: "When I played for [Reds owner] Marge Schott for those five years, she was the only person in the organization with facial hair!" Needless to say, there were some classic lines from Pete Rose. In addition to the jokes, the gang actually talked real baseball where they gave some serious analysis on today's game.
Both Tony Gwynn and Pete Rose agreed you can't win a World Series in Philly or Cincinnati because of the ballparks. Rose elaborated:
"I never thought I'd ever defend you guys — Randy — pitchers. We don't do anything to help pitching these days. We made band-box ballparks, umpires won't call strikes, and I don't know who invented pitch counts. This guy outta jump off the Empire State Building. I believe in a pitch count if you got a guy coming back from surgery and you're trying to keep track of how many pitches he throws, but I hit off Gibson — he'd throw 130 pitches — Drysdale — he'd throw 125 pitches."
Man, just hearing those guys go round the table sharing stories and talking about their successes and failures was tremendous. That's really what sports radio's all about.