Kobe Says He Ain't Divorcing (Will Stick With Hotel Clerks Instead)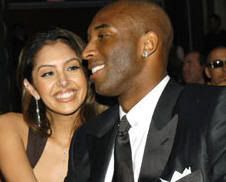 The always reliable MediaTakeOut had a report last week that Kobe Bryant was preparing to file for divorce. I have no idea where they got the report from and I seriously doubted it from the moment I heard it. Who knows, maybe Kobe was thinking about divorce. And then maybe he saw what happened to Michael Strahan, and he thought twice. Because according to Entertainment Tonight, Kobe's not getting a divorce:
Rumors have surfaced that basketball star KOBE BRYANT and his wife VANESSA's six-year marriage is close to divorce. But the Lakers guard tells our KEVIN FRAZIER exclusively that the reports are 100 percent false.

The NBA player has been traveling in Europe with his family, which includes two young daughters, and has been working out with Team U.S.A. He tells Kevin he has no idea how the rumors got started because he and Vanessa are happily married. He goes on to tell Kevin that he initially wasn't going to respond to the reports but then felt compelled to set the record straight.
Damn, six years? It's been that long already? I'm so glad that Kobe felt compelled to set the record straight — wouldn't want word that one of the world's most eligible ass bandits bachelors would be available for the taking. Now, if we've learned anything from Kobe's past, it's that he'll flip flop on this decision a few more times. Stay tuned…
Kobe Bryant Loves LBS:
Kobe's Alleged Former Bodyguard Writing a Tell-All Book
It's Kobe's Armageddon in Los Angeles
Lakers Lose, Kobe Thinks He Wins