Michigan State Got Help from the Refs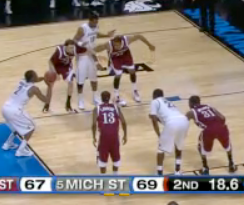 As good of a program as Michigan State is, you figure they wouldn't need much help to take care of the second place team from the WAC — one that went 22-12 in the regular season. That wasn't the case on Friday night when Michigan State never held more than a four point lead in the final 10 minutes of their game with New Mexico State. Things were interesting down the stretch with the Spartans pulling it out 70-67. The outcome would have been more in question had Michigan State not received favorable and surprising calls from the refs. The foul disparity over the final seven minutes in the game was 7-3 in favor of Michigan State. Several of the calls on New Mexico State were ticky-tacky hand checking fouls including the two called on Jahmar Young that fouled him out of the game. Any coincidence Young is New Mexico State's highest scorer? Probably not.
It also was quite odd that the refs called a lane violation on New Mexico State on Raymar Morgan's second free throw attempt with 20 seconds left (pictured). Morgan missed the free throw but the violation allowed him to shoot again. He made the shot which put the Spartans up 70-67. The second chance make forced the Aggies to take a low percentage three pointer to tie instead of a higher-percentage shot in the paint. They missed a couple of desperation heaves and lost the game. New Mexico State coach Marvin Menzies knows they got screwed: "You know, I wish [the lane violation] would have gone uncalled in this particular instance. In Ray's opinion, he felt he should call it. We would have had a much different approach to the last few seconds. I think I would have had something designed to get us to the foul line at least." I'm not saying New Mexico State would have won the game, I just wish it were called more evenly down the stretch.