My Crappy NCAA Tournament Picks: Day 6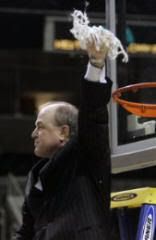 Only two games remain to decide the Final Four — and I have three teams remaining in my brackets!  But doesn't everyone else?
So Kansas and UCLA was a fantastic game (and even better because UCLA was victorious!). I also highly enjoyed the Memphis/Ohio St game, but I will disregard my cheap breakdown of the aforementioned games for a moment since I have a few other issues to address. 
IÂ am absolutely astonished at the lack of upsets, which in turn has resulted in all the high seeds winning. Here are a couple of discussions I've had recently:
My Dad pointed out that all #1 seeds won both their conference regular season and conference tournaments.  So yeah, that's reason enough to believe that the top teams in the country were significantly better than the marginal teams.  But even when that appears to be the case, don't some of them run out of steam in the tournament?  Or at least lose focus?  How is it possible that three Elite Eight matchups were 1 vs 2 seeds, and the other is 1 vs 3?
With radio host John Fricke, we agreed it was pretty cool that all eight teams who remained (prior to Saturday) represented the conference regular season and/or conference tournament champion of seven of eight tough conferences in America (the Pac-10's regular season and conference tournament champs, UCLA and Oregon both made the Elite Eight).
My point is this: that's what I want to see.  These are some of the greatest games you could ask for.  I want the heavyweight matchup.  I want the UCLA vs Kansas, the Georgetown vs North Carolina, the Memphis vs Ohio St.  Don't you?  Are you telling me you'd rather see Winthrop try to knock off Florida?  You wonder why Oregon waltzed in there?  It's because their bracket actually saw an upset or two.
If you are like me and you agree this has been outstanding basketball, then I propose this: why not start at the Sweet 16 and have a serious tournament?  So a mid-major knocks off two teams and what, they get creamed in the 3rd round.  Let's just cut out the middle-man, and go straight for the prize.  Give me the prime matchups — give me the high seeds everytime.  I want to see some real basketball, not that Cinderella bullcrap. 
Here are what my crappy picks look like after half the Elite 8 games are over.
MIDWEST REGION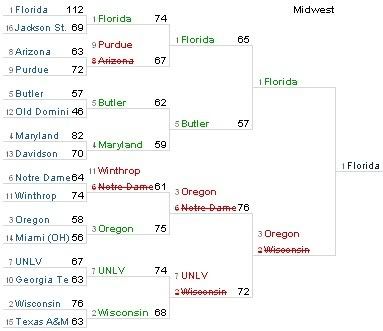 WEST REGION
EAST REGION
SOUTH REGION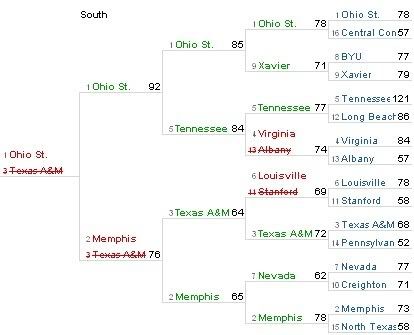 FINAL FOUR