Who Will Last Longer: Lavin or Floyd?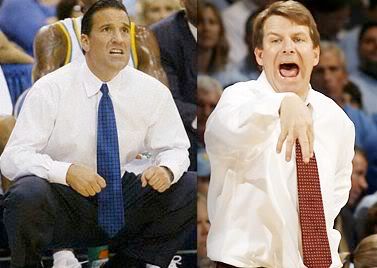 Tuesday was an interesting day for Southern California sports fans. Former UCLA coach Steve Lavin had his prayers answered and he was hired to become the new head coach at St. John's. Former USC coach Tim Floyd was plucked from the New Orleans Hornets staff to serve as UTEP's head coach, replacing Tony Barbee who left for Auburn. So the obvious question is … who lasts longer at their job? Though the answer may seem obvious based on coaching merit, the question is trickier than you think. Let's examine some of the factors at play:
IN FAVOR OF LAVIN:
Low Expectations — The Red Storm never was better than a game over .500 in six seasons under Norm Roberts, so going 12-20 will fit right in with what they're used to. Plus, they kept Roberts around six seasons despite little signs of progress. Lavin has a six-year deal. You do the math.

ESPN backing — Having been a talking head on ESPN the last several years, recruits will undoubtedly be familiar with Lavin's face. He should be able to convince some of these guys to play in NYC but it's only a matter of time before they realize he can't coach. The ESPN backing will also make it less likely that Lavin faces harsh criticism and more likely that his positive results become glorified.

Personality — Lavin has natural charm and is extremely friendly. He'll endear himself to the University, the city, and the press. Being likable makes it harder to be fired.
AGAINST LAVIN:
Coaching Inability — This was always his biggest weakness and even having great players can't overshadow it. Designing gameplans, in-game adjustments, and basic strategy are not his strong suit. Having been away from the game seven years probably won't help much, either.

NY media — Known as the most critical in the country, it shouldn't be long before they see Lav for what he really is.
IN FAVOR OF FLOYD:
Coaching Ability — He's had success everywhere he's been at the collegiate level: Idaho, New Orleans, Iowa State, and USC. No reason to believe this won't continue.

Hometown Factor — Floyd was an assistant under Don Haskins from '77-'86, they'll love having him back in El Paso.

Loaded Roster — This team rolled in the WAC (15-1) and made it to the tourney. The team is full of juniors and as long as Randy Culpepper and Derek Caracter stick around, they should repeat as WAC champs.
AGAINST FLOYD:
Greener Pastures? — Floyd almost seems overqualified for this job but he needed someone to take a bite after the way the whole USC thing went down. With immediate success and the NCAA off his back, a desperate, bigger school could come calling.

The NCAA — The dude is a marked man and is probably pretty high on the Most Wanted List. Any false moves and he could be slapped with the dreaded "Show Cause" order.t
ADVANTAGE:
Lavin. Floyd probably will be onto a new job before St. John's decides to can Lavin but Floyd will be in the coaching profession longer. I wouldn't doubt it if Lav's is calling one of Floyd's games five years from now.