Karl Dorrell: Duke Football Savior?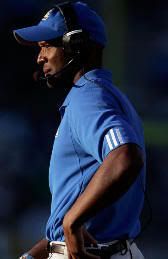 I've said for quite some time that I wanted Karl Dorrell out as UCLA's coach. I was happy to finally get my wish this week, but I still maintain that I want Dorrell to succeed, just elsewhere. Well, looks like Dorrell's opportunity to coach in the collegiate ranks may be coming sooner, rather than later, as SI.com reports:
Former UCLA head football coach Karl Dorrell is drawing interest from Duke University, SI.com has learned.

Duke would like to schedule an interview with Dorrell in the near future, but it is believed that the Blue Devils are still in the process of formally contacting the coach.
Maybe Duke is just drawing upon its common lines with Dorrell — they were two of the three schools to lose to Notre Dame this year (Stanford was the other, as The Driver points out). Perhaps it's that sort of distinction that unites. As for coaching at Duke football, it's no easy task. Ted Roof was fired after winning just 6 games in 5 years. Yeah. Those won't be easy to come by for Karl. Duke football has gone winless three times since the turn of the century. Their last ACC title? 1989 when they were co-champs under Steve Spurrier. That would be some high company, Karl.