Can Mississippi State Really do Better than Sylvester Croom?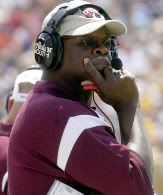 Sometimes you have to look at yourself in the mirror, be honest, and ask yourself, "Can I really do better than that?" If Mississippi State were to ask themselves that question regarding their head football coach, my answer would be "No." I don't know who Mississippi State thinks they are, or what they expect to be in a football sense, but I thought Sylvester Croom did a pretty good job with the program. From what I remember, he inherited a program on NCAA probation with scholarship reductions, one that had gone 7-27 in the three previous years. Sure, it took a few years before Mississippi State was no longer a punching bag, but they had reached that point.
Croom scored a big win over Florida in his first year as the Bulldogs' head coach, helping launch the fire Ron Zook movement. In 2005, Croom's squad obliterated rival Ole Miss 35-14. Finally by mid-season in 2006, his third year with the program, Mississippi State started to play at a respectable level. The Bulldogs kept all of their games in the second half of that season close, proving to me that Croom was getting Mississippi State to a respectable level.
In 2007, everything came together for Mississippi State as they got SEC wins over Auburn, Bama, Kentucky, and rival Ole Miss en route to an 8-5 season that ended with a Liberty Bowl victory against Central Florida. Honestly, the folks at Mississippi State probably should not be expecting more than that. Croom thrice contributed to the firing of a fellow SEC coach; Ron Zook, Mike Shula, and Ed Orgeron were all axed in years Croom beat em. The way I look at things, Croom did a good job by making a crap team competitive, and even a winner last year.
This year the team took a step back going 4-8, but if you look at their schedule, what would have been realistically better, five wins? They play in the toughest conference in America and have some of the worst talent. What do they expect to happen? Furthermore, the Mississippi State defense struck me as legit this year, but their offense was crap. They weren't completely outclassed until the Egg Bowl because of the defense. And to be fair, Ole Miss is one of the hottest teams in the country, and the only team to beat Florida, so we know they're good. If Mississippi State could just get one or two strong play-making recruits in on offense, I bet they would have been a .500 team next year. And really, can they expect to do much better? I don't think so, and that's why I think they're going to have a hard time finding a coach who can do more for them than Sylvester Croom did.