Brett Favre's Ambiguous Comment About Minnesota vs. Green Bay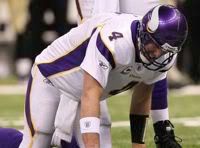 With minicamps getting started across the NFL, what better time than now for Brett Favre to let the world know that he needs ankle surgery to continue playing? Of course it might not be Favre who sparked the discussion — he might have just been replying to an email from ESPN reporter Ed Werder. Just that Favre gave Werder a story regarding Favre's need for surgery on his injured ankle confirms what I believed during the season, that Favre was Werder's source for the Panthers benching story. Beyond what Favre said about needing ankle surgery to continue playing, I thought one part of his email was particularly ambiguous. Were his thoughts about Minnesota a compliment to the state and team, a crack on Green Bay, neither, or both? Here's what he said:
"To play again, I would need the surgery, as I suspected. This decision would be easy if not for my teammates and the fans and the entire Vikings staff. One year truly felt like 10 — much like Green Bay for many years. That's what I was missing in my heart I suppose, a sense of belonging."
That's a pretty ambiguous comment from Favre. Is he saying that the atmosphere in Minnesota was so welcoming that they treated him like he were one of their own, as if he had played there for 10 years rather than just one as a newcomer? Is he saying that Minnesota treated him the way he was treated in Green Bay for 10 years before the Packers' front office began pushing him out? I'm guessing he meant the former, just that Minnesota was extremely welcoming. However, I do interpret his "much like Green Bay for many years" line as Brett pointing out that things were rosy in Green Bay most of his career until things soured at the end. The one part that's not ambiguous is his last line where he confirms he just wanted to belong. Yup, despite being a megastar and Hall of Fame athlete, Brett Favre has a need to be loved and appreciated like everyone else.
Sources:
Favre still has pain in ankle [ESPN]