Pictures of Brett Favre's Bruised Ankle and Hamstring After Saints Game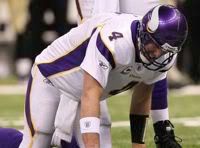 OK, I took the bait. I've accepted an invitation to the Brett Favre pity party, sent by his agent, Bus Cook to the Clarion Ledger. Pro Football Talk actually linked up these pictures for our viewing and I have taken the opportunity to post them, courtesy of Rick Cleveland's blog. There was no doubt that Brett Favre got beat up in the Saints game, taking some of the worst shots we've ever seen him take. But it's one thing to see the hits in the context of the game and it's a complete other to see the actual pictures afterwards! I'm not sure when these are from, but if this is how it looks a week later, then I can't even imagine what it looked like the day after the game. Man, are these gruesome.
Usually I have little sympathy for Favre but it was impossible to watch that game and not see how badly he was beat up and how much courage it took to keep coming back for more pounding. Favre certainly is an iron man whose toughness is not in question. These pictures also make you think about all the other injuries that occur every Sunday that we don't see the pictures of. Simply consider that it was just revealed that Randy Moss played about 2/3 of the season with a separated shoulder and we didn't even hear about that. Things may be looking black, blue, and purple for Favre right now but give it several months and I'm sure he'll have a different mindset.