Buccaneers Players Didn't Support Jon Gruden in Tampa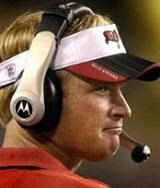 Once Mike Shanahan got fired by the Broncos, I figured there was a chance Jon Gruden could get fired in Tampa Bay. It's like free agency dominoes in baseball — once one goes down they all fall after that. Still, it is mildly surprising to hear that both Jon Gruden and Bruce Allen were fired by the Buccaneers. Perhaps even more surprising was that Raheem Morris, who spent the season as the defensive backs coach, got promoted to head coach. Morris actually was promoted to DC once Monte Kiffin left to join his son Lane at Tennessee, but he really doesn't have experience as a coordinator. So for all those wondering what fueled the firing in Tampa, Adam Schefter has the scoop:
Over the past couple of weeks, the Glazer family called in various Buccaneers players to solicit their opinions on head coach Jon Gruden.
…
One of the worst-kept secrets in the league was the way Buccaneers players felt about Gruden. There wasn't a real affinity there.
Mike Florio at PFT adds that Gruden would say one thing to players one day and then do something completely different the next. OK, given this information the firing makes a lot more sense. The part that's harder to figure out is why they promoted Raheem Morris so quickly when it seems like he's inexperienced. I know that the league is trending toward unknowns such as John Harbaugh, Mike Smith and Tony Sparano who never had head coaching experience but were successful, but that's quite a jump to make. Also consider that Mike Shanahan was available and this really leaves you scratching your head. Maybe the Bucs didn't want to lose Morris who had been interviewing for other head coaching jobs, and maybe the players lent their support to Raheem. Who knows. Perhaps Morris will show us that the Glazers knew what they were doing.