Jim Fassel Says He Got Along with Al Davis, Wants Raiders Coaching Job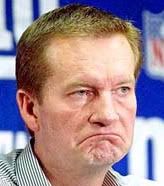 Apparently Jim Fassel is really desperate to get back in the NFL as a head coach. So desperate that he has the death wish to coach the Raiders, which is more of a curse than a privilege. Fassel apparently wrote a letter to Al Davis expressing his "respect and admiration for Davis and his desire to coach the embattled franchise." And when asked about his interest in the Raiders gig as a guest with Dave Harbison on Sporting News Radio, Fassel offered the following:
"I have an interest in going back, whatever team that might be. The main thing you want to do is be the right fit for the team. I worked [for the Raiders] one year and I had no problems. I did not personally — I can speak for myself — I didn't have any problems. I got along with Al Davis very well and he was very good to me. When I took the New York Giants job I can't tell you how many people said 'don't take that job. They got cap problems, they don't have a good football team, they have issue after issue after issue.' You go in there and you make it what you make it. I don't look at it as a glass half-empty guy. I didn't have any problems last time I worked [in Oakland]."
Fassel, you can say what you want to say, but man, let me tell you, those are the words of a very desperate being. What makes him think he'll be any different from anyone else who's coached the team the last five years? Does he really think he can waltz in there turn them into a playoff team and make everything happily ever after in Raider-land? I suppose it's not entirely impossible, but if history tells us anything, a turnaround in Oakland is improbable given their current personnel. I guess when you've been out of the game for so long, just having any gig will get your name back in the mix and could lead to other gigs aside from the Raiders job. Imagine if the Redskins had only hired him … the depths to which we sink.