Joey Porter Drops Bombs on Matt Cassel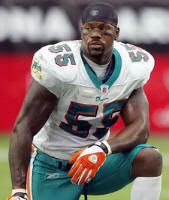 Dolphins linebacker Joey Porter better be giving us some solid bulletin board material considering he hasn't performed too well on the field since signing with Miami. With the Dolphins set to face the Patriots this weekend, Porter was popping off as is his want, angling most of his barbs towards Matt Cassel. Though Cassel has as many wins as Porter has since signing with the Dolphins last year (and in only one career start), Porter didn't hesitate to rip the young QB a new one:
"I just know he's not a Tom Brady," Porter said. "So if it's not Tom Brady, it shouldn't be that hard."

"You treat him like you treat a backup," Porter said. "How do you prepare for a backup? He don't get that many snaps, right? So you throw the kitchen sink at him. That's what we're going to do."
…
"He's a guy we'll prepare for, but that was his first start since high school," Porter said. "So you can take all the reps you want to. This is a totally different game, a totally different league. He's only had one start in the NFL. Take that for what it's worth. He won it, but if you compare him to Brady, there's no comparison.

"You can say whatever you want to put with it. Those are just the facts. That's what it is. It means what it means."
I was with Porter up until the part where he said it would be fun to get his team's first win of the season on Sunday. I guess he's forgetting that football's an 11-man game on both sides, and the other 21 Dolphins that play aren't as good as the Pats for the most part. I think he's a wee bit mistaken about that part — probably the most crucial factor. I can't imagine however that the Tuna's too happy about Porter stirring the pot. I wonder how long Joey's going to last in Miami at the rate he's popping off.