Jon Gruden Takes the High Road, Thinks Tim Tebow Can Play QB in the NFL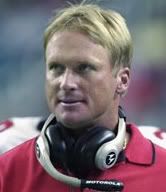 With the league trending towards young coaches who have no prior head coaching experience, I'm beginning to think that the time off from the game will do some former head coaches well, starting with guys like Jon Gruden. Talking with the Orlando Sentinel, Chucky said he's going to take the time off to learn more about football, particularly the spread offense that has become so prolific in the college game. He says he intends to visit Oregon to learn about the spread, Virginia to visit with Al Groh, and South Florida to see how Jim Leavitt built up that program. I think it will serve Chucky well to make these trips. Heck, the firing may have even humbled him and taught him that he might need to start acting differently towards his players; this whole thing could be great for him. Anyway, in addition to saying he was hurt by the criticism he received from his former players, Gruden really took the high road when commenting about the Buccaneers:
"I'll be the biggest Bucs fan out there this year. And I'll be there; I'll be at the games. I'll root for Raheem. I love Raheem. I hired Raheem — twice. I have a lot of confidence he can do the job and wish him the best."
And what perhaps might be most interesting to people — are you paying attention Mel Kiper Jr.? — is that Gruden thinks Tim Tebow will revolutionize the quarterback position in the NFL:
He's like Brandon Jacobs playing quarterback. He's 250 pounds. He's the strongest human being who's ever played the position. Ever. He will kick the living [expletive] out of a defensive lineman. He'll fight anybody. He is rare. Tebow is the kind of guy who could revolutionize the game. He's the 'wildcat' who can throw. Most of the teams that have the wildcat back there, it's Ronnie Brown, it's Jerious Norwood, it's whoever you want to say it is. This guy here is 250 pounds of concrete cyanide, man. And he can throw. He throws well enough at any level to play quarterback.
Talk about a ringing endorsement. Before I had questions about where Tebow would go in the draft. Now I'm pretty sure he'll be a first-rounder because all it takes is one team out of 32 to think like Gruden. As for how much success he'll have? I don't think he'll enjoy much of it; how will he last if he tucks and runs 20 times a game against those monsters playing defense in the NFL? I don't think that translates to more than five or six years. We shall see.
(via PFT)