Peyton Manning Disregards Criticism from Ron Jaworski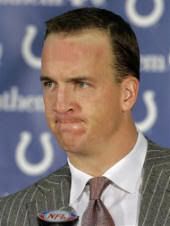 While many people are looking forward to the Monday Night Football game between the Colts and Texans to see if Arian Foster will set more franchise records against Indy's defense, there's another matchup about which I'm more excited. Seeing how ESPN analyst Ron Jaworski handles his commentary about Peyton Manning piques my interest.
A few weeks ago Jaws suggested in an interview that father time may have been catching up to Peyton. That was after the Chiefs' defense had shut down Indy's passing game and before Manning went for over 300 yards to beat the Redskins. After initially dismissing Jaws' suggestion, I noticed Peyton lacked velocity on many of his throws against Washington though he had good stats.
The comments by Jaworski got back to Peyton for a response. The All-Pro shrugged off the comments and declined to get into things saying "I really have zero reaction." Players take criticism of that nature personally and some hold it against broadcasters. Peyton will likely be out to prove to people — Jaws especially — that he is still an MVP quarterback and on top of his game.
What's rare is to hear a game analyst like Jaworski be critical of a star player. Broadcast crews meet with teams and players prior to games in order to prepare for their telecast. To say the production meetings between Manning and Jaws were awkward is probably an understatement. I wouldn't be surprised to hear Jaworski address his critical comments at some point during the game or go all out in praise of Peyton as an apology. Getting into conflicts like this one is exactly what keeps television personalities from being critical in their analysis.