Want to Buy Jack Lambert's Cigarette?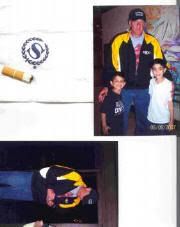 Mondesi's House did a nice job pointing out this story a few days ago, but it wasn't until I caught it at Our Book of Scrap that I read about it. Right up there with purchasing Luis Gonzalez's used chewing gum, you can bid on a used Jack Lambert cigarette. No joke. Here's the description on Ebay:
"WHEN I WAS OUTSIDE THE HOTEL MAKING SMALL TALK W/HIM WHILE HE WAS SMOKING HE THROUGH THIS BUTT ON THE GROUND & I GRABBED IT BECAUSE I THOUGHT IT WOULD BE COLLECTABLE. HE SMOKED A FEW OTHER TIMES BUT HE PUT THOSE IN THAT LONG TUBE TYPE TRASH CAN OUTSIDE PLACES THEY PUT FOR BUTTS. IF YOU HAVE A PHOTO OF CARD OF LAMBERT,THIS WOULD BE COOL TO FRAME W/IT AS A CONVERSATION PIECE, YOU GET THE BUTT & THE SHERATON NAPKIN"
Hope you caught this soon, auction's ending today!