Penalties Indicate Blackhawks are Getting in Canucks' Heads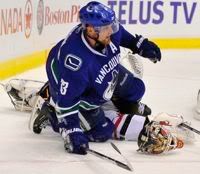 Friday night the Vancouver Canucks and Chicago Blackhawks faced off again for Game Four of the Western Conference Semifinals. It was apparent by the amount of times the Canucks players went skating to the penalty box that the Blackhawks were getting to them.
Blackhawks captain Jonathan Toews came up with his first career playoff hat trick. This was a nice compliment to the hat trick that defensemen Dustin Byfuglien had on Wednesday night. Can they make it three in a row? If the Canucks keep trying to play dirty, it's more than possible. Alexandre Burrows got a couple shots in on Big Buff when he was down, but it did nothing but hurt his team. The Canucks were trying to match the physicality of the Hawks, but instead it just kept landing them in the box instead.
So how are the Hawks doing it? Is it the back-to-back hat trick games? Is it Byfuglien's cockiness towards Vancouver fans? Or maybe it's Adam Burish calling Burrows a clown and telling him to come find him or Ben Eager on the ice?
Whatever it is, it's working. Roberto Luongo has even shaved off his playoff beard as his way of  "Changing things up a bit." The Canucks will head into Chicago Sunday night trailing by two games in the series, but they aren't giving up yet. Canucks head coach Alain Vigneaultis trying to remain confident in Luongo:
The goaltender has been a big part of it and he's been in this situation before. He was in this situation just a couple months ago with Team Canada where they couldn't lose and he won three straight, so I've got a lot of faith him, I've got a lot of confidence in him and I know he's going to do the job for us. … The series is not over.
He's right, it isn't over. But the Blackhawks certainly have momentum on their side as they return home having won three games in a row. I said from the start that this was going to be a very exciting series and so far I haven't been disappointed.
Sources:
Blackhawks Shoot for the Series Win [NHL.com]
Cheap Shots on Dustin Byfuglien [YouTube]
Burish calls out Canucks 'Clowns' [Calgary Herald]
Photo Credit: Getty Images