Illinois Lottery Burned by Million Dollar Blackhawks Promotion Prize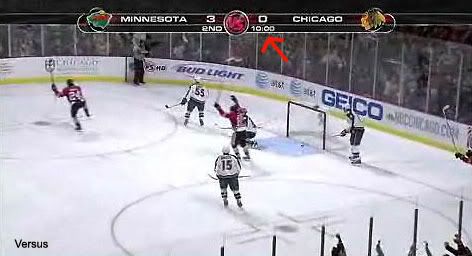 I'm sure you've all been to games where they have promotions that are game-related, not just based on completely random draws. For instance, the team scores 100 or more points in a basketball game, everyone gets tacos. A home run is hit in the 5th inning and an entire section gets free sodas. Well the Illinois Lottery was sponsoring an interesting promotion — if the Blackhawks scored a goal at EXACTLY the 10:00 mark of the second period, a pre-determined fan would receive a million dollars. Astonishingly enough, that scenario played out on Monday night, making Cary Stolarcyzk a lot richer. While the story itself is cool, the aftermath might not be. Yahoo! Puck Daddy's Greg Wyshynski did some intrepid reporting and reveals some disappointing news:
The contest won't be held for tonight's game, as [Director of lottery Promotions Paul] Arnell said the introduction of the winner will take the place of the promotion. The Blackhawks won't play again in Chicago until Feb. 14 against the Dallas Stars, and Arnell said the lottery is keeping its options open.

"We're evaluating the existing promotion with the Hawks now, about what parts of it we want to keep and what parts we want to change," he said. "I don't think [the win] discourages the partnership at all. If anything it would encourage it."
Well that blows. So a contest hits in one of the first games after you introduce it and now you're reconsidering the promotion? Maybe they should have thought harder and found a more improbable scenario beforehand if they planned to offer a generous prize like a million dollars. By the way, how sweet was it that the guy actually won? And you know what, having a minor chance at winning a million bucks at a game isn't a bad incentive to show up for a contest. Too bad it looks like that might be changing in Chicago.