Danica Patrick Wins, Gets Airplane Day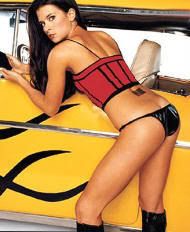 For some reason there's always been this stigma attached to Danica, Anna Kournikova, and a few other hot female athletes. Like people were always trying to bring them down for being good looking and world-class at what they did. As if just being hot weren't enough — which it clearly is in my book — ugly chicks had to try and make us men feel bad about turning them into a big deal. If you think about it, what separates them from any other good looking girl is the fact that they are/were amongst the world best in their fields, and that's how they gained notice. So to me, all this crap about "Danica needing to win a race to legitimize her publicity" was meaningless. But anyway, to satisfy the haters, Danica went out there and won an IRL race, but as luck would have it, it was in Japan.
So now you're going to hear all this stuff about Danica being legitimate, and now we're going to have all these new Danica-marketed products. Just think about how much you've already seen Danica in magazines, commercials, and hawking this or that product, and that was all without winning. You'll certainly get your Danica fill whether or not you wanted it. And perhaps the biggest sign of this absurdity is AirTran Airways which has already declared Monday April 21st AirTranica Day and painted her picture on one of their planes. That's right, if you're flying from Orlando to Pittsburgh on flight 994 or from Pittsburgh to Atlanta on flight 993, you'll be aboard AirTranica Won. Hopefully they can fly as well as she drives. You have been warned: brace yourself for Danica overload.