The Houston Rockets are still trying to build a team that can contend with the Golden State Warriors in the Western Conference, and they are willing to make some major changes this offseason to accomplish that goal.
ESPN's Adrian Wojnarowski reports that Rockets general manager Daryl Morey is showing an "aggressive desire" to improve the team's roster this summer and has informed rival executives that all players are available in trade talks.
Sources: In calls to front offices, Houston GM Daryl Morey is showing an aggressive desire to improve roster with all players and picks available in talks. Hard to imagine James Harden scenario, but the rest under contract – perhaps even Chris Paul – could be moved in right deal.

— Adrian Wojnarowski (@wojespn) May 29, 2019
As Wojnarowski notes, Morey has not even indicated that James Harden is off-limits, though it seems highly unlikely that he would be traded. Chris Paul signed a four-year, $160 million max contract with the Rockets last offseason, but Morey is apparently open to moving him.
One interesting storyline that has emerged out of Houston since the season ended is that there may be some tension between Harden and Paul. While head coach Mike D'Antoni did his best to downplay that, you have to wonder if it's a factor in Morey's willingness to make major roster changes.
Amid rumors of discord between his two star players, Houston Rockets coach Mike D'Antoni said that tension between guards Chris Paul and James Harden is nothing to worry about.
D'Antoni said that it's "normal" for the teammates to go back-and-forth about the correct style, and added that the whole thing isn't much of a story.
Rockets coach Mike D'Antoni also addressed the @TheAthletic report about tense talks between himself, Chris Paul and James Harden regarding style of play. https://t.co/T6IHQneHbZ pic.twitter.com/kPJF0H66ND

— Sam Amick (@sam_amick) May 25, 2019
This comes on the heels of a report that Harden and Paul had a tense disagreement after being eliminated from the playoffs by the Golden State Warriors.
D'Antoni is doing what he should be doing here, which is trying to turn a negative report into nothing. All is not perfect in Houston, but it was not as if the Rockets performed badly this season, so it seems manageable for now.
The Houston Rockets endured a disappointing end to their season this year, one that left their star players in a verbal back-and-forth, according to a report.
Houston feel to the Golden State Warriors in the playoffs for the second year in a row. The difference is they lost a round and game earlier than last year, and they went down in Games 5 and 6 despite Golden State not having Kevin Durant.
The Athletic's Shams Charania wrote about the team's status entering the offseason and noted the tension between Chris Paul and James Harden during and after the Game 6 loss.
From Charania's article:
"But Harden and Paul had tense moments with one another throughout Game 6, culminating in a verbal back-and-forth postgame that went into the locker room, sources with knowledge of the situation told The Athletic. Sources said the verbal exchange between Harden and Paul was regarding the ball distribution throughout Game 6. By the time the remainder of the locker room was ready to talk, Paul and Harden had gone their separate ways, with Paul swiftly making his way to the postgame podium."
None of this should be surprising. Two teammates were arguing/in disagreement about sharing the ball following a season-ending loss in the playoffs against the Warriors? This probably happens in every locker room.
This wouldn't concern me if I were Houston. The Game 6 loss hurt them as we know. The questions about how they run their offense moving forward are somewhat valid, but the Rockets don't need to make big-sweeping changes. They seem to know that, evidenced by their plans to extend Mike D'Antoni.
H/T CBS Sports
Chris Paul has been the target of criticism from many people evaluating the Rockets' future, but the point guard still has the support of ownership.
Rockets owner Tilman Fertitta spoke with the Houston Chronicle's Jonathan Feigen on Thursday and expressed his support for CP3 despite the criticism the point guard has received for posting his worst statistical season.
"You can't just look at Chris' statistics, assists and points," Fertitta said, via Feigen. "Chris does things all through the game to disrupt the other team. Chris is smart. I think Chris has a lot in him to contribute in the next couple years. He's got savvy and intelligence that helps the team."
Paul's 15.6 points and 41.9 percent field goal shooting this season were the lowest marks of his career. Outside of Game 6 against the Warriors, he didn't look like a special player during the playoffs.
Paul is 34, has only played in 58 regular season games each of the last two seasons, has chronic hamstring/leg issues, and he is signed to make $123 million over the next three seasons. We just don't share the same optimism about his future role with the franchise as Fertitta does.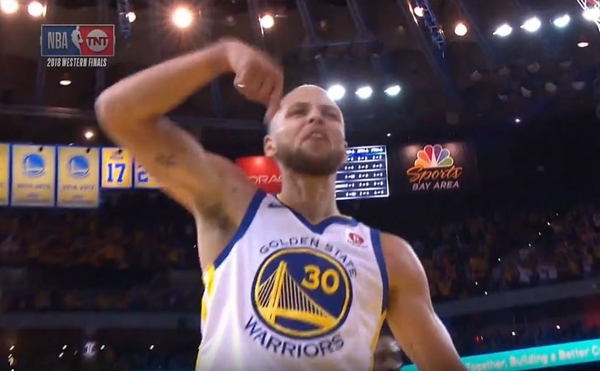 Chris Paul and the Rockets say the reports of Stephen Curry being kicked off the Toyota Center court before Game 4 of the Western Conference semifinals have been overblown, but Curry's reaction seems to indicate there was more to it than the Houston side is letting on.
Marcus Thompson II of The Athletic reports that Warriors team manager Eric Housen booked some time from 7 p.m. to 8 p.m. on the Toyota Center court prior to Game 4 so Curry could work on his shot. When Paul found out about the practice session, he supposedly showed up and gave Curry the boot so he could work on his own shot — even after Curry offered to stick to one half of the court.
Paul and others with the Rockets have disputed that Curry was kicked off the court. Houston developmental coach Irv Roland told Jonathan Feigen of The Houston Chronicle on Saturday that there were no issues and that Paul and Curry even joked with one another.
"When we finally went out there, Stephen cracked a joked with Chris. Chris said 'let him shoot.' It wasn't like it was a confrontation. 'Let him shoot. Let him finish what he's doing,'" Roland recalled. "We didn't kick him off the court. We didn't even say anything. I wanted to know how long he was shooting because I had Chris with Michael Frazier and James Harden coming right after Chris. I wanted to know how long he was going to be before James left the house."
It certainly would not be a surprise if the media blew the story out of proportion, but how do you explain Curry's reaction after the Warriors closed on the series with a win in Game 6 Friday night? As he made his way to the locker room following his 33-point explosion in the second half, Curry triumphantly said, "Kick me off the court again, boy!" Draymond Green got in on the fun by shouting, "Kick him off! Kick him off!"
The feeling around this Warriors team right now is almost like they just won a title. They were up against it, & they knew it. One of the best wins of their entire run. pic.twitter.com/z61lwq1BTB

— Reid Forgrave (@ReidForgrave) May 11, 2019
There were more than a few heated moments during the series between Golden State and Houston, so perhaps Curry used whatever incident took place before Game 4 as motivation. Even if the situation did unfold the way the Rockets claim, Curry clearly held onto it.
We have seen plenty of chippy play in the Western Conference semifinal series between the Golden State Warriors and Houston Rockets, and the result in many of those situations has been technical fouls. Kevin Durant should consider himself lucky that he did not pick one up for a cheap shot on Chris Paul during Game 4 Monday night.
After he left his feet for a rebound on a shot that ended up going in, Durant appeared to look right at Paul and then swing his elbow in the direction of CP3's face. It's hard to tell if he actually made contact, but Paul grabbed his face and went down.
— Rob Perez (@WorldWideWob) May 7, 2019
Many felt it was an acting job from Paul, who is certainly no stranger to flopping. Even if Durant did miss with the elbow, it looked like he knew exactly what he was doing with the way he looked at Paul first before throwing his left arm at him.
No foul was called, but the NBA could look at the play. Since the video doesn't clearly show if Durant actually elbowed Paul or only tried to, it seems unlikely that he'll face any disciplinary action over it.
The Houston Rockets finally got a foul call to go their way on a landing spot play, and Chris Paul couldn't believe it.
At the end of the third quarter of Tuesday's Western Conference semifinals Game 2 between the Rockets and Golden State Warriors, Kevin Durant was called for fouling James Harden on a 3-point shot.
James Harden got the call pic.twitter.com/JqKiVgwT5P

— Dime (@DimeUPROXX) May 1, 2019
Harden was sent to the free throw line and made all three of his attempts. More importantly, CP3 was so excited about the call that he actually celebrated:
"We got one!" pic.twitter.com/ZjR82EigTK

— Dime (@DimeUPROXX) May 1, 2019
Paul was lucky he wasn't called for a technical foul for the sarcastic display. A few other players weren't as lucky; Nene and Draymond Green were called for double techs after getting tangled up fighting under the basket after a free throw.
If you're wondering why CP3 celebrated, it's because the Rockets did not get foul calls on these plays in Game 1, leading to much frustration from the team.
pixel2