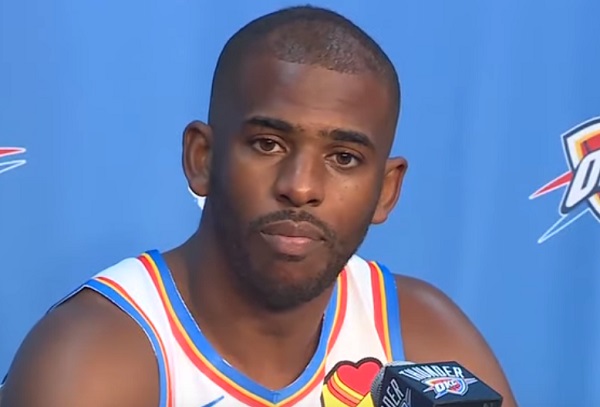 The Los Angeles Clippers had visions of winning multiple championships when they acquired Chris Paul in 2011 and paired him with Blake Griffin, but they never advanced beyond the second round of the playoffs. Injuries and opponents played a big role in that, but there are plenty of people who feel Paul and Griffin could have done a better job of coexisting. Does CP3 agree?
In a recent appearance on the "All the Smoke" podcast with Stephen Jackson and Matt Barnes, Paul reflected on the six seasons he spent with the Clippers. CP3 admitted that he had his "issues" with Griffin, and the star point guard said he didn't truly appreciate the situation until "Lob City" came to an end when Paul was traded to the Houston Rockets in 2017.
"It's seriously one of those things you don't realize what you have until it's gone," Paul said, as transcribed by Ashish Mathur of Clutch Points. "I think about it at times. And me and Blake Griffin absolutely had our issues here and there, but I actually appreciated Blake probably a lot more after I left."
As players, Paul and Griffin were in many ways the perfect compliment to one another. The team enjoyed plenty of success during the regular season with six straight postseason appearances and a winning percentage of .600 or better each year, but former Clippers players have said the dynamic between Griffin and CP3 complicated things.
The "Lob City" era in LA is another reminder that it takes more than a collection of superstar players to win championships. Both Paul and Griffin would likely do things differently if they could turn the clock back a decade.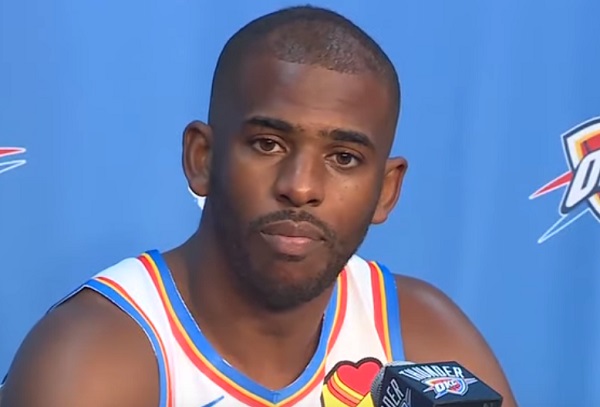 Chris Paul and Dwyane Wade got together for a chat on Instagram Friday, and a funny story emerged during their talk.
The two players, who are part of the NBA's exclusive "Banana Boat" crew, talked about what got in the way of CP3 joining the Miami Heat. Both players agreed that one of the impediments had to do with their jersey numbers.
Chris Paul wears number three and is known as "CP3." Wade doesn't quite have the same attachment to his number where it's part of his nickname/brand, but that has been his number as well, save for his season in Cleveland when he wore No. 9.
Paul recalled that when they were talking about teaming up, the jersey number issue was a hangup. He was expecting Wade to offer the number, but that never came.
"Why would I do that?" Wade answered, rhetorically. "That was my team. I couldn't give up number three. It was going to get retired there one day. I knew I couldn't do that. … CP didn't come to Miami because we couldn't come to agreement on the number."
It's unclear what year this might have been, but things worked out well enough for Wade when it came to playing with his friends. He was joined by LeBron James and Chris Bosh in 2010, and they combined to win two NBA championships on the Heat.
Don't think those numbers are a big deal? Some players pay big bucks to teammates to get their desired number.
"CP didn't come to Miami because we couldn't come to an agreement on No. 3."@DwyaneWade on why @CP3 didn't come to Miami pic.twitter.com/XAmdgB8m5Z

— Bleacher Report (@BleacherReport) April 4, 2020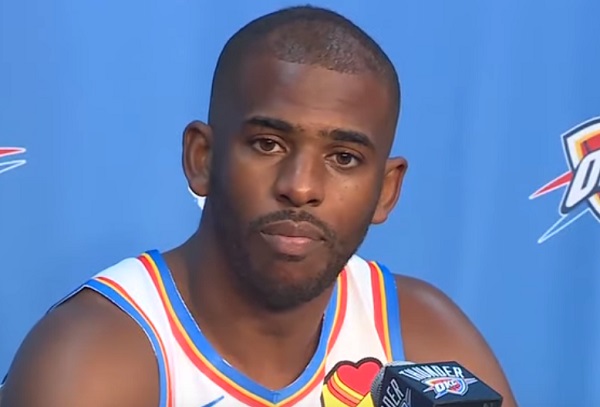 The NBA is facing an unprecedented level of uncertainty, as is most of society. The league is thinking about resuming at some point in the future, or skipping ahead to playoff games. Rather than project timetables for when NBA action could return, or sulk in the disappointment of a conceivably lost season, it is paramount to celebrate the terrific season that was unfolding.
Here are three of the most intriguing stories from around the league that have us all anxiously awaiting the return of the NBA.
The dominance of the "Washed King"
It seems unimaginable that after nine NBA Finals appearances, 34,807 points, three championships, four MVP awards, and a "regrown" hairline that anyone would doubt LeBron James. And yet, last season, after James failed to make the playoffs for the first time in 13 seasons, the rhetoric of James being a "washed king" began to circulate. When James' adversaries for the "unofficial best player in the world" title sensed a vulnerability, they attempted a basketball coup d' é·tat. Both Giannis Antetokounmpo, who is the favorite to take home back-to-back MVP awards, and Kawhi Leonard, have both made substantial claims.
James, for his part, is unwilling to concede the throne. In two different matchups that saw James go head-to-head with his most prominent competitors for basketball supremacy, the King walked away victorious, with the crown still in his possession.
Kuz crowned the King pic.twitter.com/Q9UMf5aZE9

— ESPN (@espn) March 8, 2020
While it is excessive to place an extensive amount of importance on one regular-season game, this is not a new development; James has been on a mission since the start of the season. James is leading the NBA in assists for the first time in his storied career and has the Lakers atop of the Western Conference standings.
While it is easy to marvel at the individual numbers and accolades that James has put up over the years, his durability is sometimes forgotten. As the miles on his body continue to pile up, James shows no signs of slowing down. Antetokounmpo or Leonard may have their day soon, but for now, LeBron James remains the "King" of basketball royalty.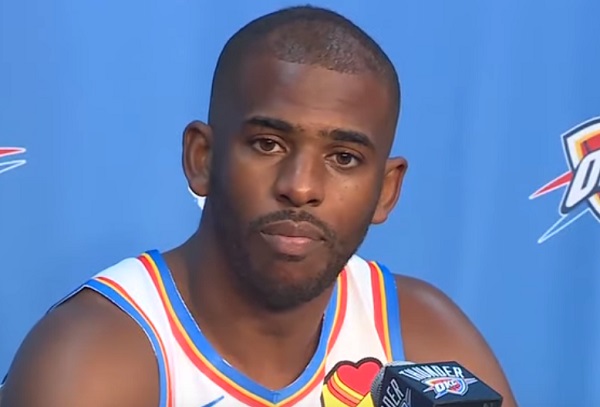 Chris Paul was linked to the New York Knicks in a recent report, and he was asked about the rumor on Friday.
On Thursday, a report from former Knicks reporter Frank Isola said the team would look into trading for Paul this offseason. The report was based on how well CP3 has done in Oklahoma City this year and the fact that few teams would have interest in acquiring an aging point guard making $85 million the next two seasons. The Knicks have money and a need for leadership, which would theoretically make him an option. It doesn't hurt that they're now being run by CP3's former agent Leon Rose.
So what does Paul think? He essentially brushed the rumor aside, saying it wasn't his concern.
Chris Paul asked postgame if he's ever imagined playing for the Knicks: "I imagine playing in Boston on Sunday." pic.twitter.com/a49Fx3ObU1

— Joe Mussatto (@joe_mussatto) March 7, 2020
"I imagine playing in Boston on Sunday, that's the only thing I think about. Shoot, I haven't seen my kids since All-Star. Might not see them until April. That's the only thing that's on my mind," Paul said.
That's a great answer from Paul, and probably the best way to respond to a trade rumor.
The matter is really out of his hands. He went to OKC even though it wasn't a preferable destination for him, and both he and the team have thrived. That's a real tribute to his abilities. The one thing we know about him is that he won't be opting out of his contract, so he'll probably go anywhere that he is sent.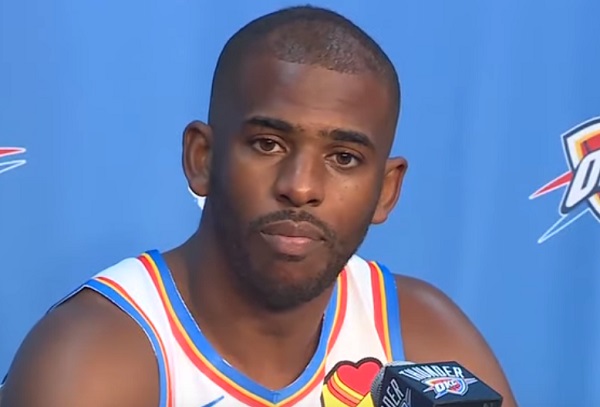 The New York Knicks are looking to rebuild their roster under new president of basketball operations Leon Rose, and one of their goals this offseason could be to bring in a proven leader who can help develop young talent. Would Chris Paul have any interest in being that guy?
Frank Isola of SiriusXM NBA Radio reports that the Knicks are thinking about making a run at Paul this summer. While Paul will turn 35 in May, the Knicks like the fact that he has helped get the most out of a depleted roster in Oklahoma City, as the Thunder are 38-24 and well on their way to the playoffs.
The Knicks, according to NBA sources, have been gathering intel on All Star Chris Paul and could make a run at him this summer. Paul, 34, carries a huge contract but he's had a resurgent season in OKC & is proven leader. (He was also once represented by…Leon Rose.)

— Frank Isola (@TheFrankIsola) March 5, 2020
Chris Paul's age and contract are concerns. But look at what he's done for Oklahoma City. He impacts winning on every team he plays for. The Knicks desperately need his leadership and toughness. (He also works the refs non-stop.)

— Frank Isola (@TheFrankIsola) March 5, 2020
Paul is owed $41 million next season and has a $44 million player option for the 2021-22 season, and it's hard to see him opting out of his deal. He probably won't be a in a position to make more than $44 million when he's 37, though he could look to sign with a contender if he's still playing.
The Thunder wanted to trade Paul as soon as they acquired him from the Houston Rockets in the Russell Westbrook deal, but CP3 has not made it easy. He's made it somewhat worthwhile for OKC with 17.5 points and 6.7 assists per game, but the Thunder will likely try to trade him again this summer. Perhaps they can work something out with Rose, who used to represent Paul.
San Antonio Spurs rookie Keldon Johnson was burned by the untucked jersey rule on Sunday.
Johnson checked into Sunday's 131-103 loss at Oklahoma City late in the third quarter. He had his jersey untucked when he tried to check in and was called for a delay of game infraction.
Spurs rookie Keldon Johnson checks in with his Jersey untucked and Chris Paul begs the ref not to call it@WorldWideWob #ThunderUp pic.twitter.com/JsHeKDUaYf

— NBA Hustle (@Hustle_NBA) February 24, 2020
What's wild is that Chris Paul was trying to prevent the referee from making the call. CP3 is the same player who urged a referee to make a call late in a December game against the Timberwolves and brought attention to the rule. Now he's trying not to have players burned for it?
Sorry, Chris, if you're going to be a rule stickler, you can't have it called only when you want it.
Johnson ended up scoring nine points in 13 minutes. This was just his fifth game played, and the nine points were a career-high mark for the rookie.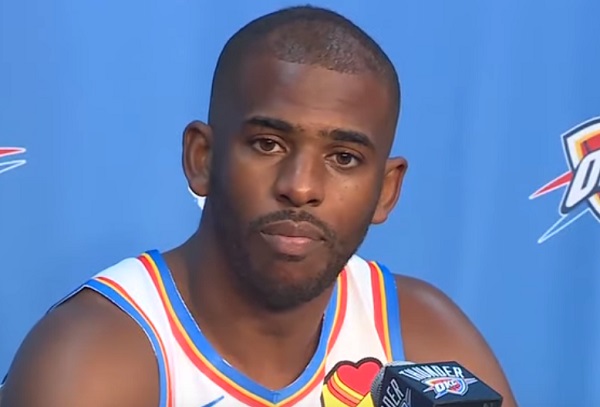 The trade of Chris Paul to the Oklahoma City Thunder this summer was one of the more surprising moves of the offseason. What's even more surprising is that CP3 remains with the Thunder … and the team is winning.
It was known that the Houston Rockets were exploring trades over the summer, including moving CP3. But once OKC dealt both Paul George and Russell Westbrook, the popular belief was that the Thunder were going to tank, and that they had no use for Paul. There were rumors they could trade the point guard to Miami, but no such deal materialized.
Instead, Paul has embraced his time in OKC and helped turn them into a winner.
So why has Paul remained with the Thunder? The 34-year-old point guard is owed $41.3 million next season and has a $44.2 million player option the following year that he will undoubtedly pick up. Teams did not want to be on the hook to pay a 36-year-old point guard $44.2 million in 2021-2022.
If Paul agreed to waive his option, teams would be much more interested in acquiring him, but he refuses to do so.
"No chance. That's not happening. Nope," Paul told SI's Rohan Nadkarni.
Why is Paul so adamant about that? It all has to do with CP3's role as the head of the players' union.
One of the big changes to the Collective Bargaining Agreement between the league and players that Paul pioneered was the change of the over-36 rule. That rule stated that teams could not sign players to four or five-year deals if the player would turn 36-or-older during the course of the contract. This rule was done to prevent teams from making long-term commitments to aging players who would be unlikely to be worth that kind of money at a later age.
Some viewed this as a selfish move by Paul because it would personally benefit him; he was able to guarantee himself $44.2 million at age 36 — a previously unheard of amount. The change would also benefit some of Paul's aging friends, like LeBron James.
Knowing the background of how hard Paul fought for that rule change, it's no surprise that he would refuse to concede his option year, which would be tantamount to proving that the previous rule made sense.
pixel2