Rangers Owner Tom Hicks says Juan Gonzalez was Probably on Steroids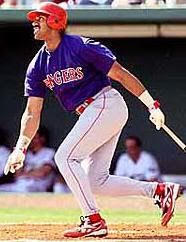 That is great. Fantastic. ESPNEWS was running the clip from an interview that Hicks did on KTVT in Dallas on Tuesday, following the announcement of the one year contract extension for GM Jon Daniels. In the interview, Hicks answers what he thought were some of the mistakes by the franchise. Check out his response:
Chan Ho Park…that was $65 million that we gave just gave away. Juan Gonzalez for $24 million after he came off steroids probably, we just gave that money away.
Yikes! I believe Hicks is referring to a two-year deal for '02 and '03. Juan Gone made it into a cool 152 games over the two years, banging 32 home runs and 105 RBIs. Not bad for 152 games…bad because that was over two seasons.
That's a pretty inflammatory charge coming from the owner of the Rangers who capitalized off several players who were most likely using steroids at the time. We know Jose Canseco was, we know Rafael Palmeiro did, Hicks thinks Juan Gone juiced, and the probability is high for Pudge too. But this is the same Hicks who is currently paying Sammy Sosa to play for his team. Yet he speaks about Gonzalez using steroids with indignation? Give me a break. All that matters to you is the that the team wins and makes money, Hicks. We know the truth.
UPDATE: Here's the video of the interview, courtesy KTVT