David Stern Happy to Change the Rule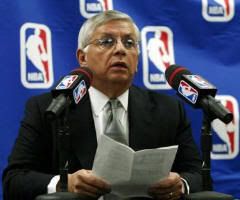 See, he's not a dumb man, just a practical one. Not unlike many others, I argued that the NBA needed to change the Leaving the Bench Rule so that in the future, stars like Amare won't be suspended when they didn't involve themselves in a fight. One of the worst aspects of the punishment was that the Spurs and Robert Horry were essentially awarded for committing a cheap shot. But commissioner David Stern joined Dan Patrick on ESPN Radio and said he'd be happy to change the rule. From NBA FanHouse:
I'm unhappy with the result. If the owners would like to change it, I'm happy to do it, believe me. I'd be very happy to do it. But to listen to the palaver that Robert Horry changed the series is just silly. What changed the series is that Amare and Boris ran out onto the court." Stern said.
The discussion between Patrick and Stern got quite heated, but it did not distract from Stern's overall message. To think Stern wants Amare Stoudemire and Boris Diaw out of the series is ignorant. He wants to put the best possible product on the court at all times, and so do the owners (except when they're angling for a higher draft pick). I have a feeling this will be first on the priority list during the off-season discussions, along with solving the Ryan Gomes issue.  Oh, and in case you were wondering, Mark Cuban would vote against changing the rule.