Kobe the Only Injured Player in the NBA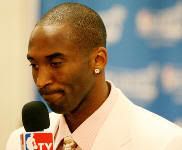 If you ever wanted to know the deep-down reasons behind my disgust of one Kobe Bryant, you don't need to look any farther than this very post (wearing sunglasses to his "going pro" announcement in high school would do the trick, too). Out of all the stars that are hurt, get hurt, and play hurt, why is it that Kobe's the one who seems to make a bigger deal than anyone else about it? Why don't I remember Tim Duncan making comments after his horrendous Game 1 debacle in New Orleans that he wasn't feeling well because he had the flu and that's why he played so poorly? Why didn't Tom Brady blame all the sacks and the Super Bowl loss on his foot? Why is it that Kobe makes it a point to let the media know in his post-game comments that his back was hindering him and that's why he didn't do well down the stretch? (And why is it that speaking at the podium isn't good enough for Kobe, he has to grab the mic and walk around, too?). I respect Kobe for playing through his pinkie injury during the season and winning the MVP award, but man, this guy doesn't fail to remind me why I can't stand him and why he's such a baby.
Instead of handling matters like a professional, he always has to let everybody know exactly how he's feeling at that moment. "Guys, guys, if you really want to know why I didn't play well, it's because of my back. You should know that, write about that. Make sure you follow it in between games." That's not Kobe's job to do. He shouldn't be publicizing his injury and using it as an excuse — that's the media's job. Let us talk about how hurt he was and how courageous he is. Let us blame a loss on Kobe's back. You don't need to do that for us. Why is it that he already seems to be building himself a great excuse in the case of a disappointing loss to the Jazz? Now it's win-win for Kobe: either Lakers win and he's the hero for playing hurt, or they lose and he's absolved because he's told everyone he's injured. Gosh I can't stand the way this guy operates.