Paul Pierce Hammers the Heat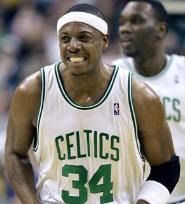 My faithful Indian companion. Couldn't resist it. For some reason or another, probably because they suck, the Miami Heat have been a great source for outstanding quotes this year. And this isn't limited to just their players and coaches — it extends to opponents as well. Witness Paul Pierce, who played a few minutes in Boston's blow out of Miami in which the Heat were held to an NBA record-low 17 field goals.
Kevin Garnett offered polite praise of the Miami Heat before Paul Pierce interrupted the postgame news conference and said, "Man, I am going to tell you the truth. They got D-Leaguers out there, so I think we just handled our business," the Boston forward said, listing some of the five Miami players who spent time in the developmental league this season. "We're supposed to do that."
I'm sure glad he realizes it and I'm happy he didn't play the PC game like Garnett. Pierce has been there — last year comes to mind. It's OK for him to call them out for what they really are since he had to take all that criticism before when the C's were the laughing stock of the NBA. Besides, what good are the punching bags of the league if you can't make fun of them. It's only Shaq who doesn't have a right to complain.