Bernard Hopkins Beaten by 'White Boy'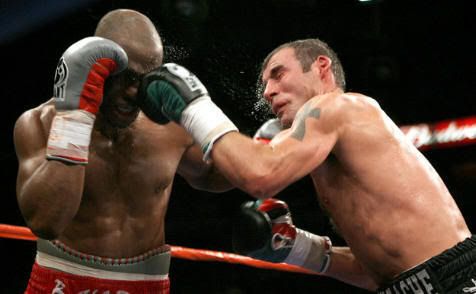 It really didn't get much attention when Hopkins made his initial comment, and it certainly slipped by our pages here. But in case you missed it, light heavyweight boxer Bernard Hopkins said prior to his fight with super middleweight Joe Calzaghe from Wales, "I would never let a white boy beat me. I couldn't go back to the projects if I let a white boy beat me." Well fight night has come and gone, and low and behold, Bernard Hopkins finds himself on the losing end of a decision. Despite knocking Calzaghe down in the 1st round, Hopkins wound up losing on two judges' cards (116-111 and 115-112) but winning on the third (114-113). As Dan Rafael already wrote, Hopkins must now eat his words. Thing is Bernard feels wronged by the decision:
"We have judges, we have officials. In the end, it's the fans who know who won the fight.

"I just feel like I made him look amateurish."
You knew the day had to come at some point for the Bionic Man. At a youthful 43, Hopkins is getting up there. Calzaghe landed the most punches The Executioner has ever taken in a fight, so the numbers indicate the Welshman dominated. I wonder what Bernard's going to say about the "white boy" now. Meanwhile, Calzaghe is still undefeated, and the old and overrated Roy Jones Jr. could be next on the list. Yeah, good luck with that one, Roy.