Ricardo Mayorga Signs with Shine Fights, Will Try Out MMA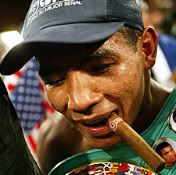 When you're 35-years-old, 29-7-1, and unable to get a fight, where do you turn? If you're Ricardo Mayorga, you decide MMA is the best option for you. MMA Junkie says the news was announced during Shine Fights pay-per-view event on Friday night. They also added this tidbit that helps explain why he's making the move:
Mayorga recently sued Don King for his inability to find him a fight and for alleged violations of the Muhammad Ali Boxing Reform Act. In the interim, it appears he'll begin preparations for a late-career run in MMA.
We've increasingly seen more boxers discuss the option of exploring the MMA frontier, Roy Jones Jr. being the most notable. Ever since recording back-to-back wins against Vernon Forrest in '03, Mayorga's gone 3-4 including an embarrassing loss to Oscar De La Hoya. Given El Matador's style, I wouldn't be surprised to see him be part of one of those 7-second knockouts. Because he doesn't hold anything back, you figure something crazy will transpire.