Jack Nicholson Trades Laker Gold for Bruin Blue
What would Laker fans have to say about one of their most high profile, not to mention devoted, fans jumps ship over to the college game? That's right, Jack Nicholson broke out the big guns and stepped into Pauley Pavilion Thursday night to take in the clash between #3 UCLA and #7 Stanford. As you could imagine, Jack was rooting for the good guys (and wore neutral colors, unlike Eva Longoria in Utah), even getting pretty pumped up when Russell Westbrook came flying in to putback a miss and pull the Bruins within a point of Stanford at 60-59: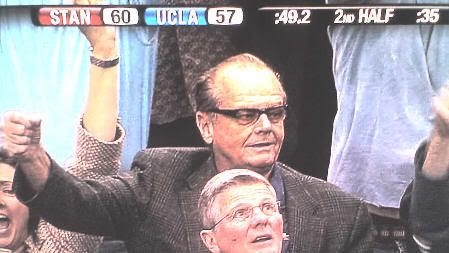 You know what, I do have to admit, it is pretty cool to have Jack show up courtside to take in a game. May I speak on behalf of Bruins fans when I say we welcome you with open arms. Oh yeah, and congrats to UCLA for winning their third straight Pac-10 regular season title. That's pretty impressive.