Nice 48-0 Orange Bowl Farewell Miami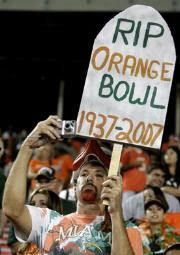 After crushing Ohio State the way I just did, I would be remiss if I also didn't touch on the pathetic display by my Canes on Saturday. In their last home game ever at the Orange Bowl, Miami got blitzed 48-0 by Virginia. Virginia. Not a powerhouse program, but a mediocre one like Virginia. I supposed it's better than getting crushed by Florida State or Virginia Tech, but still, that's pretty horrible. How can you get run off the field so horrendously in a farewell game like that? All the great alumni were at the game, and the program was embarrassed on the occasion. To put the loss in perspective, here are some details:
It was Miami's first home shutout loss since Oct. 4, 1974 against Auburn, and the Hurricanes' worst defeat since losing 66-13 at Syracuse on Nov. 28, 1998. The last time Miami lost by more points at home was in 1944, when Texas A&M beat the Hurricanes 70-14.
That's a lot of history right there, and this stands out just as badly as any of them. It was another stellar day from the dynamic duo of Kyle Wright and Kirby Freeman at QB, with Wright not even cracking 100 yards passing. Just goes to show that high school recruiting classes are meaningless; all that matters is what you do on the field at the next level. Kyle Wright was the top high school quarterback prospect entering college and turned out to be a dud. I think it's also worth mentioning that since the night I set foot in the Orange Bowl for the first and only time in my life, Miami hass gone 13-13. They lost that evening to Calvin Johnson and Georgia Tech 14-10, couldn't move the ball offensively, and have been in a tailspin ever since. (head down in shame) It's all my fault.
(AP Photo/Lynn Stadky)