Nick Saban Is Tommy Bowden's Shoulder to Cry on After Loss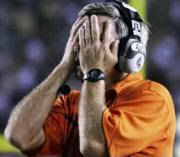 I'm a little new to this whole thing, but I guess in the college football world, it's cool for coaches to converse with each other and share ideas. How often do we hear about coaches opening up their practices to other coaches who want to come by and learn? Wasn't half the coaching world in Morgantown the last few years to adopt Rich Rodriguez's spread offense? Apparently it doesn't end with sharing strategies — calling coaches that just whooped your ass in a game is cool now too — if you ask Tommy Bowden. After Bowden's Clemson Tigers got rolled by Nick Saban's Crimson Tide 34-10 on Saturday, Bowden called over to Saban for advice:
"As I talked to coach Saban, I said, 'I'm not one to have enough pride where I've got all the answers. I see you got six months to study me, a guy like you, what did you see?" Bowden said Tuesday.

Saban wasn't the only high-profile coach Bowden called on this week. He said he also spoke with his father, Florida State coach Bobby Bowden; Georgia coach Mark Richt and Virginia Tech coach Frank Beamer about how the Tigers would recover from the beatdown at the Georgia Dome.
As my buddy Arnie Spanier pointed out, why the heck was he calling Frank Beamer? Don't you think Beamer has his own problems to worry about, you know — like being upset by East Carolina? Where's the compassion, Tommy? By the way, it's just a shame that I don't do Doc Brown's picks for college games — Bama over Clemson would have been a lock for me; Clemson always gets tons of hype and fails in big games every single year. As for Saban? He may be a prick, but he's a darn good coach. That's just a mis-match right there.