UCLA Football Is Finally Legit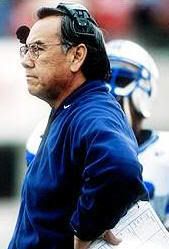 At least it appears that way for the time being. Phone calls were shared and cheers were aplenty late Sunday evening and all of Monday amongst the Bruin crowd. No sooner than the moment Lawrence Tynes kicked his way out of torture were the Westwood faithful already focused on a newer, greater piece of news: UCLA had hired Norm Chow as their new offensive coordinator. What is so great about the hire? It means that within two months, UCLA football has gone from six-win oblivion, to all of a sudden having possibly the best coordinator tandem in all of college football, and no doubt a marquee coaching triumvirate of DeWayne Walker, Rick Neuheisel, and now Norm Chow. I am clearly excited about the news as it gives a fresher, reassuring appeal to a football program which had grown stagnant.
Furthermore, speaking specifically about the Chow hire, I am amazed that it happened. First of all, I was stunned to hear that the Titans had fired him. Why? was my first question. How easy can it be to coordinate an offense with an unorthodox QB in Vince Young who was running on a bad wheel most of the year? Not too easy in my opinion. As Gutty Little Bruins told me, Chow was the sacrificial lamb for all of VY's sins. Sounds about right to me. Next, I thought Chow was way too high profile to come to Westwood. He had already interviewed for the head coaching position but didn't get it. He had bigger fish to fry. Yet Chow went from pro back to college — in the same capacity — clearly a step down. Regardless, I'm happy about it.
So, as The Driver emailed in, UCLA now has one of the most accomplished offensive coordinators in college football paired with one of the top defensive coordinators in college football, working under a man who somehow convinced both men to come to Westwood. Oh, the future seems bright. Still, before the Honeymoon begins, I must express my skepticism. For one, can these brilliants chefs make a kosher meal if they don't have good groceries to begin with? In other words, the signs of success could take a few years. And secondly, say they do have success, how long will Chow and/or Walker stay? Or worse, say UCLA does poorly next year, will Walker regret his decision to stay in Westwood and then skip town as soon as he gets his first bite?
While I don't have the answers to these questions, I will put my skepticism aside and instead smile about something I haven't in years: UCLA football. We are back.
And p.s. USC fans, the Chow hire cancels out the loss at Pauley Pavilion. Don't think I would neglect to mention that loss.