Donovan McNabb Didn't Know There Were Ties, Cost His Team?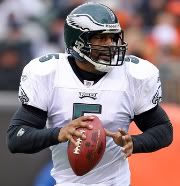 One of the more embarrassing games in the NFL this year occurred on Sunday in Cincinnati where the Bengals and Eagles played to a 13-13 tie. Neither team was able to score in the overtime period, resulting in the game being called as a tie — the first in the NFL since 2002. Last month I thought the Raiders/Jets game was heading to a tie until Sebastian Janikowski nailed a 57-yarder with his donkey boot. Perhaps Sunday's game between the Eagles and Bengals would have ended differently had a certain key player on a certain team actually been aware of the NFL regular season rules. Let's let Donovan McNabb share his thoughts after the game:
"I've never been a part of a tie," McNabb said. "I never even knew that was in the rule book. It's part of the rules and we have to go with it. I was looking forward to getting the opportunity to get out there and try to drive to win the game. But, unfortunately, with the rules, we settled with a tie."
…
"In college, there are multiple overtimes, and in high school and Pop Warner. I never knew in the professional ranks it would end that way. I hate to see what would happen in the Super Bowl and the playoffs."
And in case you're wondering whether or not McNabb was being facetious, you can catch a glimpse of the video to see how matter-of-fact he was when he made that statement. Have they not seen the end of the season when teams are fighting for playoff spots and they say "A win plus a ___ loss or tie would send them to the playoffs?" That's how I knew ties occurred. Plus, a tie last occurred in 2002 when McNabb was in the league. Maybe someone from the Eagles coaching staff should have made them realize that there wasn't going to be a second overtime. Perhaps they would have tried slightly harder to make something happen if they knew it was a "now or never" situation. That knowledge might have helped. Just guessing.