Fred Taylor Should Have Listened to Jim Brown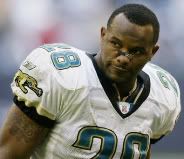 Fred Taylor may be one of the top 20 career rushing leaders, but that didn't help him reach a Pro Bowl until his 10th year in the league. Fred used to say that making the Pro Bowl didn't matter to him, adding that he ignores criticism from the media. Why is that the case? Taylor always said he didn't need validation from the media because he had the respect of the one man who mattered — Jim Brown, who told Fred he liked the way he ran. Jim Brown also had this famous line to say in his autobiography, Out of Bounds:
"Two things I always knew about my league, the NFL: You don't ask for favors, you don't hang around. A man might love the game, but the game loves no one. The game will use what he has, [then] discard him. The sh– isn't personal."
That line was last brought up in Jim Trotter's article about LaDainian Tomlinson's negotiations this offseason with the Chargers. It's also quite applicable to Taylor's situation with the Jags — after 11 seasons with the team, he finally was released Monday. Rather than hanging on a year too long, long enough to get burned by injuries caused by the game, Taylor should have walked away after the '07 season when he was on top. It was that season that he made the Pro Bowl — the first of his career — rushing for 5.4 yards per carry, which was the highest of his career. Taylor could have gone out on top, like Jim Brown, and avoided this spectacle. Now he must beg for a team to pick him up for what is likely one last year, or decide to retire. Either way, the game did not end on his terms.