Tim Tebow Calls Out Mel Kiper Jr. About His Pro Future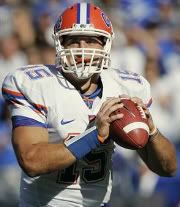 One of the best questions of the college football season is how Tim Tebow will fit in the pro game. Lots of successful, running quarterbacks in college often have to switch positions in the NFL to find a job. Take a look at Matt Jones, Michael Robinson, and Brad Smith to name a few. While I don't believe Tebow could do his thing in the NFL the way he does it in college, I still have to believe there's some sort of place for him the pros. My main issue is that Tebow takes a lot of pounding already, but he can withstand the hits in the college game; he wouldn't last two months doing the same thing against the heavy hitters in the big leagues. For some reason though, ESPN draft analyst Mel Kiper Jr. is convinced Tebow's future is as an H-Back, something Tebow's not having any of as he said on ESPN Radio:
"You tell me this," Tebow said to Kiper during the radio exchange. "What do you think I need to do to be an NFL quarterback? You tell me that.
…
"You're just too good with the ball in your hands not to think, Could he be Frank Wycheck? Could he be Chris Cooley? That's why," Kiper said. "You're too good, doing what you do, Tim, running with the football."

Tebow replied, "The quarterback has the ball in his hands every play."
Tebow's right on, but it seems like Kiper chickened out not wanting to really call Tebow out to his face. Tebow will have plenty of doubters to prove wrong when he goes to the next level, and how and when he gets drafted will be a great question. The even better question is how the team that selects him chooses to utilize his talents. I'm still saying he won't make it as a quarterback.
(via Ballhype)