Tom Brady Wants Time Off to Play Dad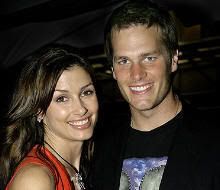 So far we've seen things get pretty ugly with Matt Leinart and Brynn Cameron when it came to their kid. Then, we had LeBron say he wasn't going to miss any games because of the birth of his child. And now, on the complete other end of the spectrum, we have Tom Brady. Apparently the man currently banging Gisele is requesting time off from football to be present for the birth of his child.
While Brady wouldn't divulge exactly when the child was due with his former girlfriend, Bridget Moynahan, he did say he'd like the time off for daddy duty.

"We'll see when it happens. Like I said, it's up to Bill," Brady said when asked about potentially leaving the team. "Bill has a lot to say, so we'll deal with it when it happens."

The Pats coach, meanwhile, responded to the Brady time-off question in his usual noncommital, vague way.

"I think there are situations between a player and a coach and the team and the personal situations, these are dealt with on an individual basis," Belichick said when asked specifically about giving Brady a few days off for the birth of his child. "It doesn't matter who the player is. There are plenty that have come up through the course of the year. I'll deal with them like I do all of them."
So, what are the actual chances Billy boy lets him off? I'm thinking they'll work something out. And get ready for every single thing Brady does wrong this year to be not only over-analyzed, but also attributed to his fatherhood. They better win the Super Bowl … otherwise it's going to be a looong season of questioning.