Who's Worse: Vick, or $$ Hungry Dad?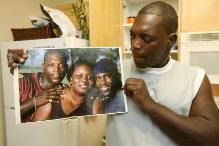 Alright, we can all pretty much agree that what Michael Vick is alleged to have done is pretty bad. But if anyone would stick up for him, you would at least figure it would be his family, right? Wrong. Vick's dad, who's been described as an estranged father, told The Atlanta Journal-Constitution that Vick's been involved in dog fighting for a long time and is responsible for the entire operation. Before we go on bashing Vick once again, let's examine the motives for the Dad to speak out.
[Michael] Boddie said he is speaking out because he's been hurt by his son and wife's failure over the years to correct what he considers inaccurate media reports that Vick grew up without his father present.

Boddie, 45, lives in a Duluth apartment that his son has paid the rent on for the last three years. Vick, who has a $130 million contract with the Falcons, also gives him a couple of hundred dollars every week or two, the father said.

Boddie wanted more. Two years ago, he said, he asked Vick for $1 million, spread out over 12 years, enough to keep him comfortable for the rest of his life. Vick declined, the father said. In recent weeks, Boddie asked Vick, through an assistant, for $700,000 to live on.
…
[Boddie] said he's not perfect. He said he hasn't worked since 2003, went through drug rehab in 2004 paid for by his son, was sometimes high or drunk around his children when they were young, has gotten in trouble for drinking and driving and had his driver's license revoked.
Snitching on your own son? That's pretty low. This guy sounds every bit as shady as his kid. I'm not saying we should just disregard the man's word — I figure there has to be some truth to what he says — but come on, he's a pretty sick character too. Doesn't sound to me like this guy's words would carry much weight in a courtroom once you unveil his motives.
(photo courtesy Curtis Compton / AJC)