Gary Bettman Explains the Switch from NBC to Versus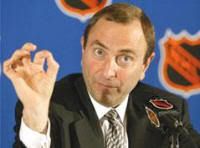 The commish joined Mike and the Mad Dog as a guest on WFAN on Monday and took quite the beating. The hosts were peppering him with questions — namely, why was the plug pulled on the Senators/Sabres game that went to overtime? Well, turns out that regardless of what the wrath and scorn of the media would lead you to believe, the plug was not pulled. In fact, Bettman knew quite well that the coverage of the game on NBC would be lost if it went to overtime.
It wasn't something that just happened on Saturday. It was something that we knew could happen and it was something that we all planned for.
…
When we made our deal with NBC they had a pre-existing contractual relationship with the Preakness. Covering the Preakness is more than covering the two-minute race. There are a whole host of sponsors and advertisers who buy the time that leads up to the Preakness. NBC had an obligation to carry it.
…
We were getting this game to the widest coverage for the longest period of time. If we didn't do this game on NBC even with the possibility that the game was going to be switched over for overtime, then the entire game would've been on Versus.
So there you go — justification from Bettman. And I think he's just in a crappy position all-the-way around. It's lose-lose. If they televise it on Versus, nobody sees it, and everyone laughs that a NHL Conference Finals game is on a channel nobody gets. They took a gamble hoping for the best, and they got burned. The only other plausible suggestion would have been to start the game earlier. That's something Bettman really didn't explain well. He tried to attribute it to re-seeding from round-to-round, and the uncertainty that the game could be on the West Coast. Lame. That would have been the best solution in my eyes.