Pau Gasol Comment on KG's Changed Game Portrayed Poorly by Media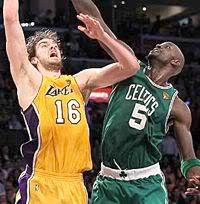 You didn't really think that Lakers forward Pau Gasol would be dumb enough to rip Celtics forward Kevin Garnett unsolicited, did you? He's much smarter than that, right? During one of the off days prior to Game 2 of the NBA Finals, Pau Gasol was asked how both he and Kevin Garnett have changed as players since they first played against each other. As Bob Ryan explained for The Boston Globe, Gasol's comments were an honest and accurate assessment:
"And also on Kevin's part he's also lost some explosiveness. He's more of a jump shooter now, you could say, comes off the lane. Before he had a really quick first step and was getting to the lane and was more aggressive then. Time passes and we all suffer it one way or the other, but he's still a terrific player, a terrific competitor and he's going to bring everything he's got. You can count on that."
Of course anytime you hear that comment from Pau, like in this piece by ESPN reporter Rachel Nichols, the question asked is left out so people don't get to hear the entire exchange to judge for themselves. Then the quote gets brought to Garnett and pisses him off prior to Game 2, and people start throwing out cliches about "waking a sleeping giant" and "tugging on Superman's cape." Any wonder why players don't like dealing with the media? Or maybe Gasol should be more guarded next time and feed us b.s. because we kill players who give us honesty.
Sources:
Gasol wronged in Garnett comments [The Boston Globe]