Video: Roger Federer Cries Following Loss to Rafael Nadal at Australian Open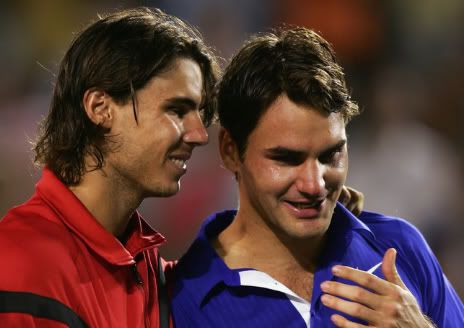 Man, I wish Australia wasn't on such a different time schedule from us because they really screwed up my sleeping routine as I had to stay up late watching this epic battle. The awesomeness of the competition between Roger Federer and Rafael Nadal in the finals of their five set match in Melbourne is indescribable. Both players raised the game of tennis to new levels. It wasn't about choking or collapsing, nor was it about unforced errors or double faults. It was about who could top who with the better shot. These two shot-makers were on top of their game. They hustled to every ball, produced winner after winner, truly showing that they were the top two players in the world, and two of the best ever. Balls you never thought a player could get to, they retrieved. Shots you never thought they could make, they pounded. Just when you thought Roger could get a break, Rafa blasted one up the line. Just when you thought Rafa would get a break, Roger responded with an ace. In the end, Nadal appeared to be the fresher body as he rose up to a new height and dominated Fed in the final set. Though he was unfairly playing on less rest, Nadal was in excellent condition and persevered.
While the play of the match was astounding, one of the lasting impressions I'll have was Roger Federer's post-match acceptance of the runner up's trophy (video below).
The crowd in Melbourne gave their undying support to Roger, and he reciprocated with tears of sorrow; sorry that he could not give them what they wanted. More than tears of sorrow, perhaps Roger's tears were out of worry, doubt, and fear. How crushing of a blow could it be to him that he lost once again to Nadal in the championship match of a major? Losing at the French or on clay is one thing. Losing at Wimbledon was bad. But losing on a hard court like the Australian, how will Roger respond? He was a major shy of tying Pete Sampras' record and knows time is not on his side. His game was not sharp enough in the end and Nadal has gotten the best of him in three straight majors. Maybe those were tears of a worried man. The ultimate coup would be if Nadal can show up at the U.S. Open and win it, then we'd know it's officially time for Roger to be scared. Make sure you check out video of Roger's speech (apologies for the Spanish feed)