Curt Schilling: Definitely a Hall of Famer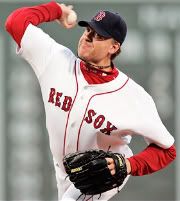 We went through the same thing a few months ago when Mike Mussina announced his retirement. It's times like these where we must recognize that the age old standards for induction into the Hall of Fame must change. 500 home runs doesn't mean anything near what it used to considering two or three players eclipse that mark each year. Similarly, 300 wins is no longer a realistic plateau for pitchers to achieve. With that in mind, it's time voters started changing their habits and take in the entire picture when they judge players for Hall of Fame worthiness.
Without a doubt, Curt Schilling is a Hall of Famer. Even though he has less than a third of the career wins Greg Maddux had, Schilling had a stretch from '01-'04 where he was easily one of the top pitchers in the game. Schilling was second in the Cy Young voting three of those four years and finished towards the top of the MVP balloting. Curt even had years after that where he was a very good pitcher, as well as a handful of years with the Phillies where he stood out. But the difference between Schilling and guys like Maddux who have the more impressive career numbers is what Curt did in the postseason.
Until Josh Beckett came along, if you asked me to choose a pitcher I'd want to start a playoff game in the last decade, my answer would easily be Curt Schilling (John Smoltz being a very close second). Schilling was absolutely nails in the playoffs. Let's start with the 2001 postseason where Schilling shared World Series MVP honors with teammate Randy Johnson. In the NLDS that year, Curt threw a complete game shutout to set the tone in Game 1 against the Cardinals, and then he wrapped up the series with a complete game six-hitter for the clinching win. In the NLCS against the Braves, he threw a complete game giving up just one run for the win. In the World Series against the Yankees, he started Games 1, 4, and 7, and was just about untouchable each time out.
19 career postseason starts, 10-2 record, 2.23 ERA, sub-1.00 WHIP over 130+ innings — that's where legends are made. Only once (Game 1 of the ALCS in '04) did Schilling not give his team a chance to win in the playoffs. Every other time that Curt stepped to the mound in October, all his team had to do was score one or two runs and they'd win. That's what makes Curt Schilling a Hall of Famer, all personal feelings or hatred to him aside. And if you want regular season success, Schilling had two of the best back-to-back seasons by a pitcher in the steroids era from '01-'02 with the Diamondbacks. His strikeouts to walk ratio approached 10:1 which is unheard of, and he went 45-13 throwing over 500 innings those two years. Most of all, Curt Schilling deserves a spot in the Hall of Fame because he earned it by being one of the most clutch pitchers ever. Three rings says it all.