Julian Tavarez: Signing with Nationals Is Like Settling for a Fat Chick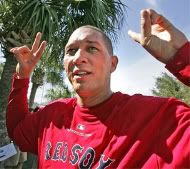 When you're Julian Tavarez and your physical appearance is about as attractive as your 6 ERA, you're probably used to hooking up with the bottom of the barrel chicks at the club. That's probably why he readily made this comparison to signing with the Nationals, a team that has been one of the worst in baseball since their inception:
"Why did I sign with the Nationals?" Tavarez said told a group of reporters. "When you go to a club at 4 in the morning, and you're just waiting, waiting, a 600-pounder looks like J. Lo. And to me this is Jennifer Lopez right here. It's 4 in the morning. Too much to drink. So, Nationals: Jennifer Lopez to me."
…
"I would like to be a starter, but it's like my father said: 'You want Jennifer Lopez, but does she want you? No.' You just take whatever she is giving to you. So I just take whatever they give to me," Tavarez said. "They give to me as a long man, I take it as a long man. Set up man, I take it. Starter, I take it. I can do whatever."
Clearly it was last call for Tavarez and he couldn't afford to be picky. Big League Stew has the actual audio Julian gave in case you want to hear it, too. I wonder how pleased the Nats will be to hear him clown on their organization. I guess the good news is what Tavarez said at the end of his comments — this is his only opportunity so he's going to work hard to make the most of it. And actually, I think the Nationals are going to be a lot better than most people think. They have no bullpen but they did swing a trade for Josh Willingham and Scott Olsen from the Marlins, and they signed Adam Dunn. Those are three good additions right there. They're nowhere near a playoff team, but they'll be much better than they have been in the past.