Padres Wisely Gambling on Mark Prior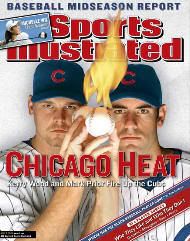 ESPN, whose reporter Buster Olney wrote up the news of Prior's agreement to a one-year, $1 million deal with San Diego, has a great graphic on Prior. In 2003, he won 18 games and finished third in NL Cy Young voting. In 57 starts since then, Mark Prior has won just 18 games. I don't think anything else can better describe Prior's downfall. Regardless of Prior's lack of recent success, I agree with Obscure Sports Quarterly and think the signing was a wise gamble for Kevin Towers and the Padres.
With the rest of the NL West actively beefing up this offseason, San Diego needs to make some moves. They've acquired Jim Edmonds and signed Tadahito Iguchi and Randy Wolf. Their offense is so anemic they'll need all the pitching they can muster. Even though he might not be able to pitch until June, should Prior give San Diego just 7-8 good starts before he gets hurt again, he'll have been well worth the money.
Arizona is the defending NL West champ and they improved significantly by adding Haren. The Rockies re-signed Aaron Cook and added a few relievers. The Dodgers brought in Andruw Jones and Kuroda. The Giants signed Aaron Rowand (hehehe). With a small budget to work with, the least San Diego can do is gamble on a pitcher like Prior who has a high ceiling. For only a million bucks, the investment was well worth it and makes me wonder why no other team tossed out a few more greenbacks for the rights to Prior.
(Though this post has nothing to do with Kerry Wood, it has everything to do with the picture I selected. Oh the days, Cubs fans.)