Rockets' Streak Is Almost Meaningless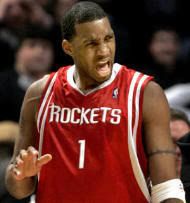 History tells us that Houston's 20-game winning streak is tied for the second longest in the NBA. Only one other team in league history has won more consecutive games. That's pretty impressive, but I'll tell you why it's nearly meaningless. To start, the Rockets would have to practically win out to approach the top streak in history, meaning they're all but certain to only be second on the list. That's cool and all, but it's not too memorable. Additionally, given the circumstances of the Western Conference, the Rockets still have plenty of time to slip in the standings. Currently they're only tied for first place in their division. They've won a quarter of their games in a row, and they're still not even the top team in the conference, let alone division. That just speaks to the level of competition. Even if they play .600 ball the rest of the way, other teams can outperform them, leaving them to easily slip down to around the 6th spot.
Next, the fact that this is only the regular season renders the streak almost meaningless. Sure it's helping them make the playoffs, but what good is this all if they don't even make it out of the first round? T-Mac was left to cry last year after failing to win a playoff series yet again. They're winning even without Yao in the lineup? Big deal. Let em win when it really matters. And when they did beat Dallas last week, wasn't it without Dirk since he was suspended for the game? Things just fell into place otherwise it would have been over last week. So sure, this is a nice story, and it's given me a top headline for the past week or so, but unfortunately, it's almost meaningless. Good luck to you, Rockets, in the playoffs — where choking happens.