Juan Pablo Montoya Got Lucky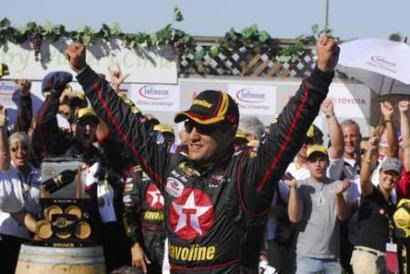 At least that's what Robby Gordon thinks. No, don't get it twisted, I'm not a fan of motorsports, but I sure enjoy a good storyline. And Robby Gordon — he of three career wins — calling Juan Pablo Montoya's win at Sonoma on Sunday the product of luck — is a storyline I appreciate.
"I'm going to say he got lucky today," Gordon said. "He didn't win this race, he got lucky on fuel mileage. … He's a helluva racecar driver, I'll give him that credit. His team probably worked on their carburetors, but they didn't have the fastest car. They just got lucky and won."
I won't begin to pretend to understand the basics of racing strategy, but anytime a driver wins a NASCAR race that lasts several hundred laps, I have to say it's not a product of luck. Memo to Robby: you had 110 laps to get to first place and stay there. Figure it out next time, and don't call someone else's win lucky.
(photo courtesy Reuters)